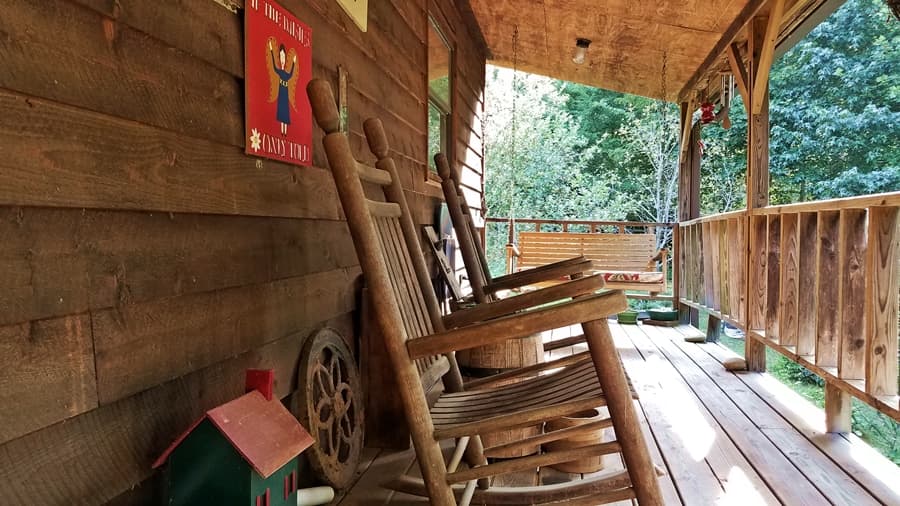 "Uncle Billy McCoy, who counts his years at two past a hundred, figures there's nothing like a rocking chair for making a body feel good all over.
"Why, I wouldn't trade a good rockin' chair for all the fancy settin' chairs that's ever been made." He smacked the arm of his old rocker with a gnarled fist. "No sir. That I wouldn't. The older a body gets the better a rockin' chair feels. I just couldn't get along without my rockin' chair. It brings me a heap of comfort and joy. Why, it'd be a heap sight easier to give up smokin' and chewin' than to part with my rockin' chair."
—John Parris "Give Me a Good Rockin' Chair – Gold Mine Creek"
—-
Like Uncle Billy, I sure do enjoy sitting in a rocking chair. My only problem is finding the time to sit in one.
A friend of Miss Cindy's gifted The Deer Hunter and me with the two rocking chairs on our front porch when we first moved into the house over twenty years ago. They're good rockers.
Granny has a small rocking chair that's been around as long as I can remember. Its small size makes it rock faster than our two on the porch and it has a lovely creak that sounds with each rock.
When my nephews were little they loved to rock…only they didn't have any rocking chairs. They'd sit on the couch and rock back and forth as hard as they could go. It was sort of a funny sight until you got used to it. I suppose the elder brother taught the younger to rock on the couch. Once their little sister came along she picked up the habit too.
Tipper
Subscribe for FREE and get a daily dose of Appalachia in your inbox