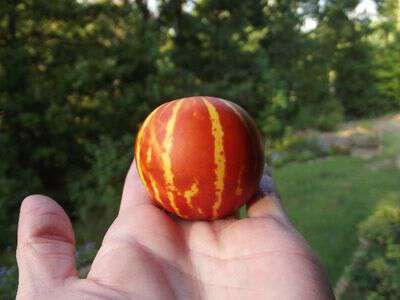 Do you know what I'm holding in the photo? At least one of you do-because one of you sent it to me in the mail. I'm sure many of the rest of you know too. I was only going to ask you to guess what the item was-but then I started thinking about its most notable feature-it's smell.
From there my mind jumped to the title of this post Appalachia Through My Eyes – Smells Good, and I began to think of all the smells of my homeland. Things that immediately came to mind:
bacon frying in Granny and Pap's kitchen
waking up to the smell of The Deer Hunter's deer roast after its been cooking all night long in the oven
the smell of the woods after it rains
snuggling in my bed with sheets that have been dried on the line
the smell of Champion (or whatever its called now) when I was little and we'd visit Canton-Pap would say that's the smell of money
the electrical smell of the heat the first time you run it in the fall
the spring air in my backyard-perfumed by Trailing Arbutus
the summer air in my backyard-perfumed by Carolina Spice Bush
the dusty wet smell of my driveway on a dry hot summer day when it barely rains enough to settle the dust
the smell of hair products that linger in the air of the girls room after they leave for school every morning
the smell of fresh cut hay
the acrid smell of black walnut hulls
the smell of wood smoke curling out of our chimney and settling around the holler in the cold air
Leave me a comment if you know what I'm holding-and add a smell to the list too!
Tipper
Appalachia Through My Eyes – A series of photographs from my life in Southern Appalachia.