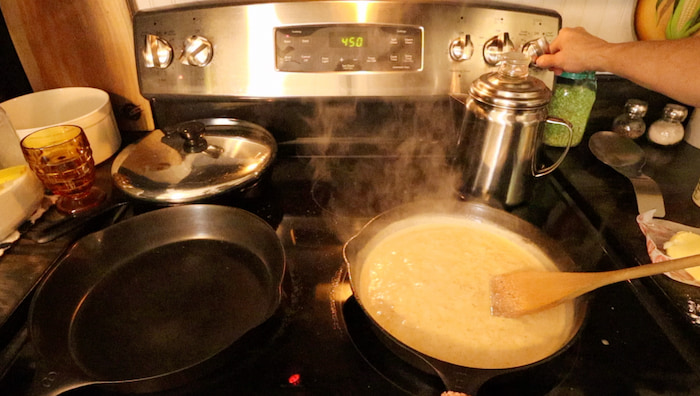 Come mealtime one would often find gravy on Granny's kitchen table when I was a growing up. She fixed sausage or bacon gravy to go with biscuits. And if I was lucky she made chocolate gravy which she and I both adored. The boys and Pap didn't care for it at all.
With supper Granny would make cornmeal gravy which I never liked, but love today and she often make cube steak with gravy.
Gravy is easy to make, but can be intimidating for the novice cook. It took me a long time to get comfortable with making gravy, but once I did I wondered why I ever fretted over it in the first place.
Granny used milk with all the gravies she made except for chocolate gravy. Some folks use water, broth, or cream.
I've heard folks say they didn't care for gravy made from bacon grease at all, but we like it as good as gravy made from sausage grease.
Once I've fried my sausage or bacon I add flour to the hot pan and let it cook for a couple of minutes while stirring constantly. Getting all the little bits of cooked on meat scraped up really helps the flavor of your gravy. I season with salt and pepper and then I start adding milk to the pan. I usually add about a cup and a half of milk to start with, of course that would need to be adjusted to the amount of grease you have. I like my gravy on the thin side so as after it cooks about five minutes if I need to adjust the thickness I add a little more milk to thin it out.
It was only as an adult that I heard folks call the type of gravy I make milk gravy. When I first came across the term I wondered why anyone would thicken milk to use as gravy. Of course I soon realized they too used grease as the base of gravy, but were simply calling it by the liquid they used.
The Deer Hunter likes to make gravy when he fries deer meat, but I don't think it has quite the flavor of sausage or bacon gravy. Although it may simply be that I enjoy the other gravies more because that's what I grew up eating.
---
Last night's video: A Traditional Appalachian Breakfast and How to Make Sausage Milk Gravy & Fried Apples.
Tipper
Subscribe for FREE and get a daily dose of Appalachia in your inbox