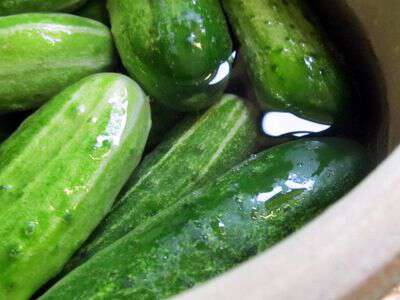 14 Day Pickles are my favorite. They are without a doubt the best sweet pickle I've ever eaten-sweet and really crisp. The recipe I use is from The Deer Hunter's family-it's been passed down through the generations. We make them every year-I couldn't imagine potato salad or tuna fish without the addition of 14 day pickles. They are also the perfect accompaniment to soup beans and cornbread.
The process is long-14 days-but not hard. I thought some of you might be interested in making them with me. The day I'll be starting is Tuesday August the 4th. If you decide to pickle along that should give you plenty of time to find what you need.
14 Day Pickles
3 gallon crock or other suitable container (see discussion below)
3 dozen small cucumbers
1 pint of non iodozied salt (2 cups)
water
2 tablespoon alum (you can find it with the spices in the grocery store)
2 tablespoon prepared horse radish or if you have fresh/dried – root size of carrot cut into pieces
3 pints of apple cider vinegar (6 cups)
5 quarts of sugar (20 cups)
cinnamon sticks-6 to 8 small ones
2 tablespoons of whole cloves
2 tablespoons of celery seeds
The first step is the easiest-the cucumbers soak for a week in a brine. After that the steps take place daily. I'll start posting the process on August the 4th-and post each additional step on the day I complete it.
If you haven't already, you can subscribe to the Blind Pig (upper left corner under the folk school ad) and you'll get an email to remind you to do each step of the process.
I realize some folks may not have a crock. I've been researching to see if you could use something else-like a food grade plastic container. Folks do use food grade plastic containers with successful results, but since I've never personally used one for this recipe I can't say for sure if it would work but I believe it would. Here are some links about using food grade plastic containers-I'll let you be the judge:
http://www.pickyourown.org/pickles_oldfashionedbarrel.htm
http://farmgal.tripod.com/PicklesRelish.html
One other thought is if you have a large crock pot insert you could use it and only make half of the recipe. I currently have a small crock sitting on my counter with only half a 14 day pickle recipe going in it. Another plus about halving the recipe is that the crock is easier to handle once the steps of the processes start because its not as heavy.
If you'd like to buy a crock-I suggest you look at your local hardware or feed store. Sometimes you can find them at thrift or antique stores-just remember if you buy a used one you should check it carefully for cracks. We found out the hard way-a hair line crack will still allow all your pickling liquid to seep out.
If you decide to be part of the pickle along-I know you'll be glad you did when you taste the sweet crunchy goodness of 14 Day Pickles.
Tipper