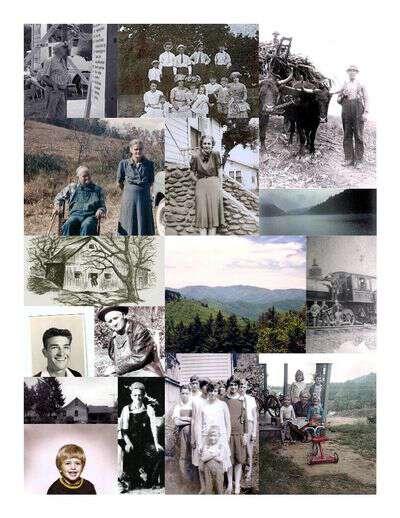 A common phrase thrown around when the subject of Appalachia is discussed is 'sense of place.' Appalachians like their place. Whether their homes be mansions on a hill or cabins in a holler, they have historically been fiercely attached to them. I've shared a Loyal Jones joke with you before, the one about Appalachians having to be chained up in Heaven near the end of the week or else they'd try to go home every weekend.
I've asked myself if other inhabitants of this world have such an attachment to their place, but I don't have the answer to that question because I've never lived nowhere other than Appalachia.
There are varying reasons behind our love for home. I'm sure some Appalachian scholar could explain each of them to you in great detail. I like things simple. And in my simple mind I narrow that love of place down to three reasons.
First: There is a feeling, a sense of belonging to the actual terrain of Appalachia. It's the towering mountains that hover close; the sparkling water that sings a merry song to you; it's the wind in the trees that whispers secrets; it's the deep dark hollers that make you feel the presence of those who walked the trails before you. Appalachia is magic. People like me who've lived here their entire lives feel the magical pull of belonging to Appalachia but people who move here feel it too.
Second: Generational ties to Appalachia are hard to break. In a 2010 Blind Pig guest post, David Anderson wrote about two of his ancestors. In the post he highlighted the fact that ten generations later the descendants of those ancestors are still abiding in Clay County NC. Take a minute to think about that, ten generations of the same family who walk the same paths; who speak the same words. Ten generations who are bonded with the same landscape and culture of Appalachia never straying far from where their ancestors first settled.
Third: The physical landscape of the Appalachian Mountains has made it an isolated area. Appalachia as a whole was a very remote and hard to get to place and in turn a hard place to make an exit from. It was too hard for people to leave, too hard for them to imagine a life outside the mountains, and it was hard for them to leave in a physical sense as well because their travel was restricted by the rugged terrain. Certainly modern transportation has removed many barriers of Appalachia's which have traditionally held its inhabitants close. Yet even now, portions of Appalachia could still arguably be called isolated. Murphy, the county seat of Cherokee County NC where I live, is closer to 5 other state's capitals than to its own. That =s being a long way away from the people who make many of your decisions. My entire life I've heard people say Raleigh (our state capital) thinks NC ends at Asheville.
My series on Oconaluftee has born proof that a sense of place was important to the people who called the area home. Generations of families stayed put until their land was taken for the park, even then most of them continued to live somewhere in western NC with many of them choosing to remain in Swain County.
I don't agree with a lot of things scholars say about Appalachia, but I do agree a sense of place is at the heart of Appalachia and its culture. The thought reminds me of a song Pap and Paul sing-The Hills That I Call Home written by Bob Amos.
A line from the song says: Yet I found no peace within me till the day that I returned For there's two things you can count on as the troubled world we face Every season has an ending and every person has a place.
Appalachia is my place.
Tipper