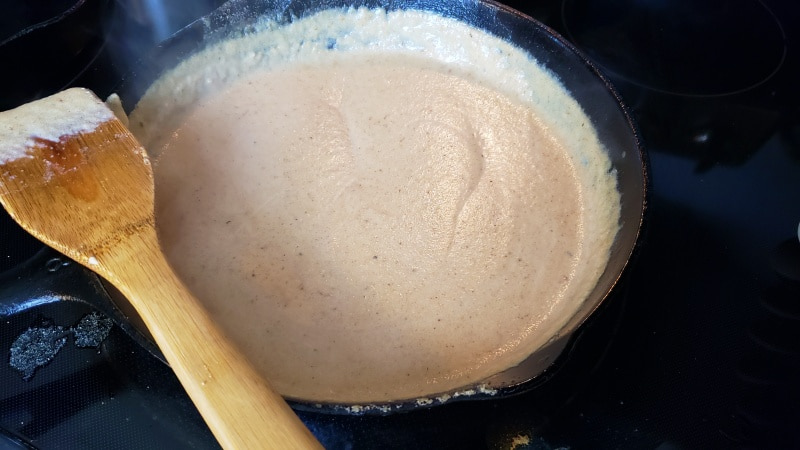 Every time Granny made sawmill gravy, also called cornmeal gravy, when I was growing up I moaned and groaned. I much preferred the taste of sausage or bacon gravy or my all time favorite chocolate gravy.
As we age our tastes often change and when it comes to sawmill gravy mine sure did! I love the stuff now.
Since I use a White Lily mix for my cornbread that's typically what I use to make sawmill gravy. The mix has a slight amount of flour in it.
A comment Ed Ammons left got me to wondering if I'd still like sawmill gravy if I used straight cornmeal so I gave it a try. I liked it too!
Cornmeal Gravy
about 3 or 4 tablespoons of bacon, fat-back, or hog jowl grease
about 1/4 to 1/2 cup of cornmeal
milk
Salt and pepper to taste
Brown cornmeal in hot fat; add other ingredients and stir till thickened.
You probably noticed the 'abouts' in the recipe. I've found making gravy to be one of those things you have to do over and over till you figure out the method that works best for you.
I add cornmeal or flour by the spoonful until I get enough in the pan to mostly soak up all the grease as it browns. Then I add milk to my thickness preference. I like my gravy thin so I use more milk than most folks.
As gravy cooks you can add additional milk or water to thin it out if it gets too thick on you.
The name sawmill gravy is said to come from logging camps where the men were served sawmill gravy on a regular if not daily basis. The grittiness of the cornmeal caused them to accuse the cook of adding sawdust to the gravy 🙂
Are you a fan of sawmill gravy?
Tipper
Subscribe for FREE and get a daily dose of Appalachia in your inbox