The all time most popular post on the Blind Pig & The Acorn blog is Granny's Pear Preserves. I first posted about pear preserves back when I first started the blog in 2008. Then in 2011, I grabbed the pear post from the Blind Pig Archives and re-posted it.
Both pear posts show up in the top ten most viewed posts for the Blind Pig & The Acorn blog. Who knew there were so many people wanting to know how to make old timey pear preserves.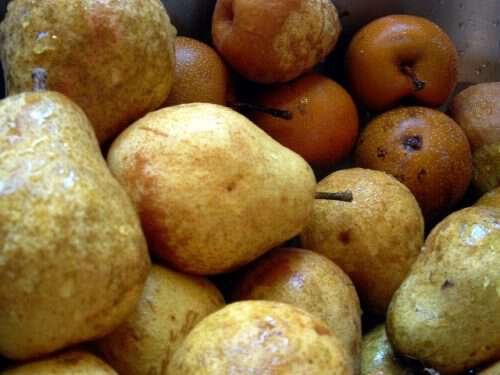 Since my sink has recently been full of pears-I thought it was a great time to republish one of my old posts: Granny's Pear Preserves.
Granny's Pear Preserves recipe has been handed down through her family for over 4 generations. I like it-because the preserves are tasty-and so easy to make.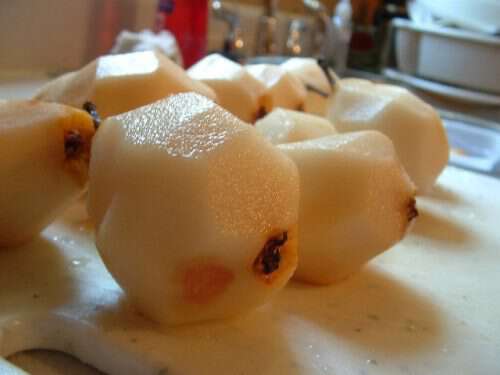 Peel, core, and quarter your pears. Slice the quarters into slivers.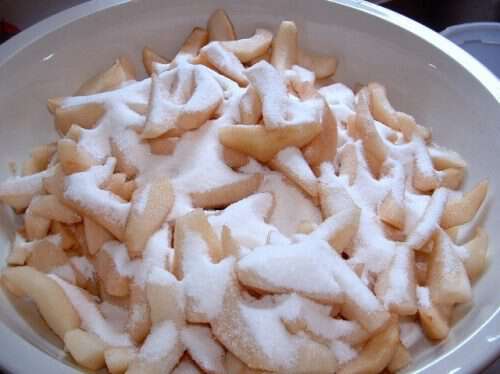 As you can see from the photo-you don't want to cut your slivers too thin. If you do the pears will more or less cook into mush-they'll still taste good-they'll just be more like pear jelly or jam instead of preserves.
Place slivers in bowl, pour sugar over, stir, cover, and let sit overnight in the frig (use 1 1/2 cups sugar for every 2 quarts of pears-you can use more or less sugar to taste).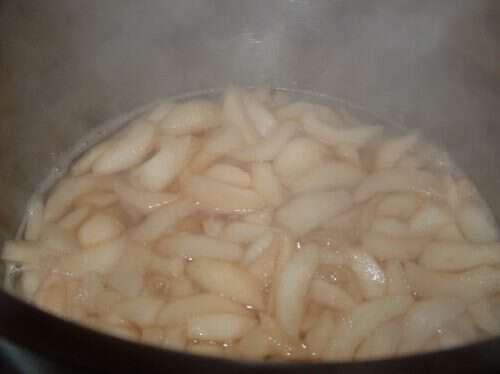 After sitting over night-cook pears slowly on medium heat until the juice has thickened. While sitting over night-the pears will have made a little juice (the amount depends on how ripe your pears are) you may need to add additional water to the pears prior to cooking to keep them from sticking/scorching.
At this point-have your jars sterilized and hot. Ladle hot pears into hot jars and adjust 2 piece canning lids. As the jars cool they seal. This is called the open kettle method of canning.
ALL canning references will tell you NOT to do it this way-that it is dangerous. We feel comfortable doing it the old time way-because its always worked for us. But I totally get it if you're not o.k. with it. If you'd rather-ladle hot pears into sterilized jars, add lids, and process at least 15 minutes in a boiling water canner.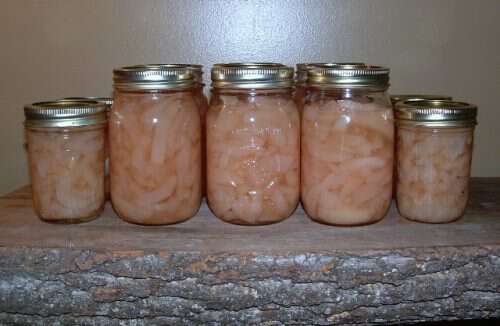 Pear preserves are great over biscuits, warmed up and served as a side-dish, or straight out of the jar-that's how Chitter and Chatter like them. It makes me happy to know I'm at least the 4th generation of my family using this pear preserves recipe. It also makes me happy to open a jar on a cold winter day and eat them.
———————
Even though this post was originally published in 2008, every once in a while someone will stumble onto it and send me a question about it. A few weeks ago a lady sent me an email about the preserves. She was hunting a pear preserves recipe that tasted like her Mother-n-Law's-who was no longer living. A few weeks after I answered her question I got another message from her. This quote came from the 2nd email:
"He almost got tears in his eyes when he tasted the preserves and said, " Them taste like my Momma's." It made me so happy, and thankful!"
Yep that email made me pretty happy too. And I guess his heartfelt reaction to the taste of the pear preserves is the reason the post ranks number one in the history of the Blind Pig & the Acorn.
Tipper