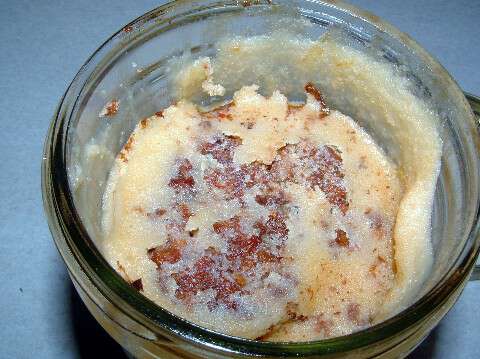 Canned sausage 
"Mountain Cooking" by John Parris
Souse Meat and Liver Mush – Laurel Branch
Hog-killin time in the hills is a hard time and a busy time for the womenfolks.
It means making souse meat and liver mush, turning out sausage, canning backbones and ribs, rendering lard, and salting down hams and bacon.
"Why, there's so much to do," said Mrs. Fannie Hensley. "It's almost enough to kill a woman. But it's something that's got to be done when you kill hogs."
She paused a moment in the frost-sharp November morning and let her eyes check the fires crackling under the kettles that dotted the back yard of the farmhouse.
"I've got two more pots of meat in there on the electric stove," she said, nodding toward the kitchen. "When you kill hogs, you've got to work up the meat fast so that it won't spoil.
My husband Bert and some of the menfolks did the hog-killing last Saturday, and for a week now I've been busy from morning to night working up the meat."
"In this pot here," she said, bending down to take off the lid. "I'm cooking the head and the jaws and the feet and the ears for making souse meat."
"In the two posts over there, I'm cooking the backbones and ribs right in the jars. And in that other one, I'm rendering lard.
Speaking of backbones and ribs, back when I was growing up all the folks did their hog-killing just before Thanksgiving , and they always had a big mess of backbones and ribs on Thanksgiving. They preferred it to turkey.
My family is particularly fond of hog meat in all its parts and forms-ham, bacon, jowls, backbones, liver, sausage, and cracklings. I reckon the only thing they've never cared for is chitlins.
I've been making souse meat all my life and I'm 70 years old. Learned when I was just a girl. Mama made it ahead of me and so did her mama.
Now the way I make it is to take the head and boil it till it's real good and done. Then I take all the meat off the bone, put in sage and pepper, and mash it all up together. Then I pack it in cans and cook it three hours. It'll keep that way.
We always eat some right away when I make it. But its's too much to keep fresh. That's why I can it.
We've already had a mess of fresh backbones and ribs. But I like my souse meat. I can most all of the backbones and ribs so we can have them throughout the winter.
To prepare the backbones and ribs, I wipe them and put them in the cans to dry. I don't have any water about them. Just put them in the cans, screw on the tops. I put a cloth in the bottom of the pot, set the cans on it, then put another cloth over the top of them, and let them cook for three hours. I never have busted a can. When you fix them that way, you've got them all winter."
She turned away from the pot where the hog's head was boiling and walked over the to the big black pot with its steaming chunks of fat.
"I prefer homemade lard to store-bought lard," she said, "And I always make enough to last from one hog-killing to the next. It's a chore to make, but it's worth it.
I take the thick, choice fat and cut it up into small pieces, then put it in the pot and build a fire under it. I let it cook until all the grease is out of it. You can tell when it's rendered because it turns brown.
Then I take the grease out of the pot and put it in containers. I'm going to can the batch in these big-mouthed jars. It'll keep good that way until next fall. Be just like it was when I put it in there.
What's left when all the fat's removed and the grease is out is cracklins. Some folks use them to make soap. But I'm not going make any soap. I have made it in my time. But it is just too much a chore.
Besides, my folks want cracklin bread made out of them. I reckon cracklin bread is just about the best bread there is. My mother taught me how to make cracklin bread. It's just cornbread with the cracklins mixed into the batter and baked until it's good and brown.
As I said, I've got liver cooking in a pot in there on the kitchen stove and when it gets done, I'll make it into liver mush. I've got a piece of pork cooking with it.
I'll be making liver mush tonight. I'll take the liver and the pork and mash it up real fine, then put it back in the same liquid that its was cooked in and add enough corn meal to make a thick mush. Then I'll put in salt and pepper and let it cook until the meal is done. You have to watch it and stir it from time to time to keep it from burning.
When it's done, you pour it out in a dish. If you'll put it in the refrigerator it'll keep for quite a while. When we want a mess, I just take it out and slice it and roll it in flour and put it in a greased skillet and fry it until it's good and brown."
—-
Tipper