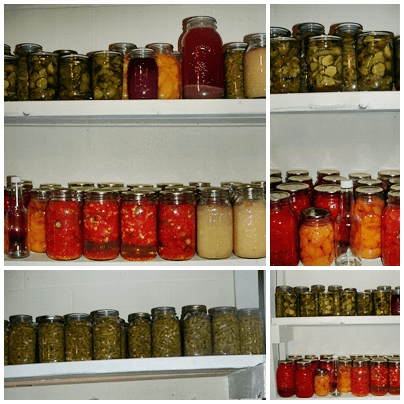 Admiring your harvest is one of the greatest satisfactions of gardening-you can see some of Granny's in the photo above.
Several harvesting chores have traditionally taken on a social aspect in the history of Appalachia.
berry canning: a community work activity held to preserve fruit for the winter-usually followed by dancing, eating, and general merry making.
bean shelling: a work session to shell beans such as October beans.
bean stringing: a community or family work session to prepare beans for canning or drying.
berry stemming: a family or community work session where stems were removed from berries before they were preserved-especially gooseberries and huckleberries.
cane stripping: a social work session to strip leaves and tops from sorghum cane before the canes were pressed. (Pap said sorghum making time was always something he looked forward to. The men (and boys) usually stayed the night to keep an eye on things. Pap said there was good food to eat, lots of storytelling, and even a few practical jokes.)
corn gathering: an organized work session used to gather corn from the field. School was often let out so that the children could help.
corn husking/corn shucking: a social activity held to shuck the corn. Typically music, dancing, and merry making was enjoyed after the corn was finished.
In today's world there isn't usually community wide socializing during harvesting chores; however, there can still be a social component to harvesting-even if it only involves your immediate family. Chatter and Chitter love stringing beans with their Granny and their cousin. They say breaking beans at Granny's and being silly while doing it are some of their favorite memories.
The Blind Pig family spent many evenings this summer breaking beans together. One evening we even had company help us-the cutest little red headed boy you ever saw.
Being together while harvesting from the garden-whether it be breaking beans, canning tomatoes, or even picking blackberries allows for much talking, much laughing, and much memory making.
Tipper