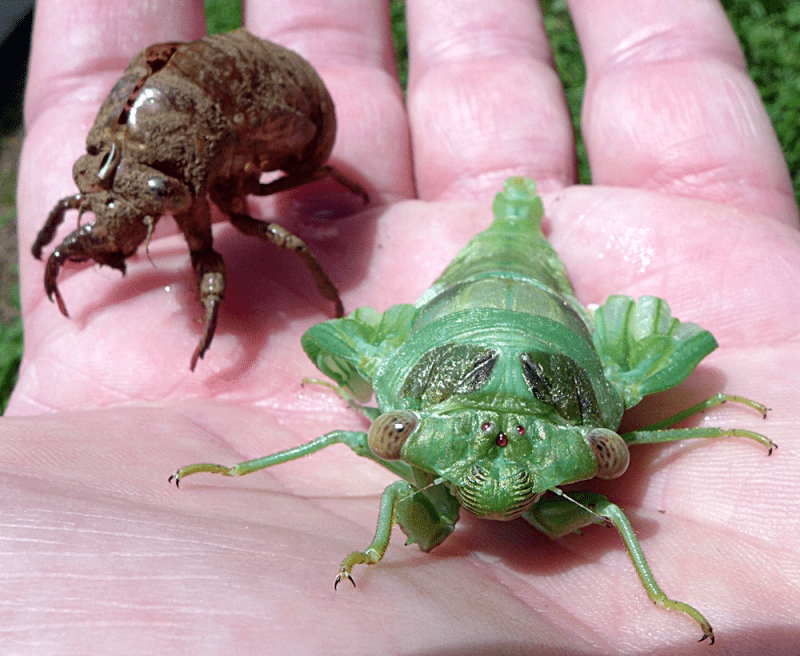 Jar Flies aka cicadas play the soundtrack to late summer in the southern Appalachian Mountains. Since I grew up hearing them-most of the time their raspy sound doesn't even register with me-but I've heard other folks say the sound is bothersome to them.
Even though jar flies have provided the music for every late summer I've ever experienced-I've only seen one a few times in my lifetime. Most of the ones I've seen have been dead or I probably wouldn't have even seen them. The photo in this post was sent to me by Don Casada who just happen to catch a jar fly emerging from its dry husk.
Jar flies play a large role in writings (fiction and non-fiction) set in Appalachia and in the south in general. Discussing their unique sound helps writers set the scene. See the quote below:
1996 Parton Mountain Memories:

"The faint sound of a barking dog, a mooing cow, or the loud "eeee-ar-eeee-ar" of a jar fly vied for the attention of the congregation."
Want to hear a jar fly for yourself?
As luck would have it every time I tried to capture a clear sound of the jar flies in my yard someone would be weedeating down the hill, the rooster would start crowing, or The Deer Hunter would crank his truck-like he did in the recording I did use. This page shares the sounds of cicadas from all across the country-and beyond. If you'd like to hear a clearer louder version-you can visit it.
If you'd like to read scientific facts about jar flies (cicadas) in NC do a quick google. The information is pretty interesting, but I'd rather think on how jar flies color the pictures of summer that I carry around in my head.
Are there jar flies where you live?
Tipper