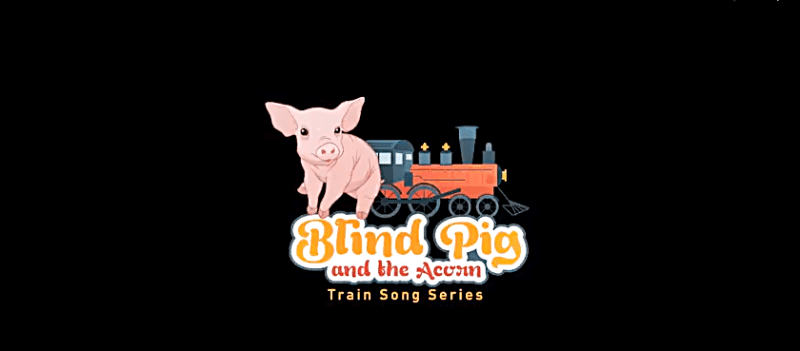 The train has reached the end of the track on the Blind Pig and The Acorn Youtube Channel-at least for this year. I'm sharing the last song from our month long series of train songs. As with the others, I'll let Paul tell you about the video and the song.
————
We hope all of our subscribers and viewers had a wonderful Thanksgiving. November is coming to an end and so is our train series, but Lord willing, we'll do it again next year. We thought we'd end similarly to how we began, with a peppy, classic. This one comes from the great Hank Snow, who it seems like also sang every other song in this series, although we didn't know it until uploading them. One would be hard pressed to find a more complete musical talent than Snow–he was superb singer, guitar player, and song writer, not necessarily in that order. In this song, he showed his musical genius with three straight, predictable chords and six detailed verses filled not only with accurate train jargon but with insight and understanding into train travel. At the same time, the song manages to capture or tell the story of unrequited love and the decision to leave it behind (to "move on" as in another Snow classic).
About the video:
Other than concerts, all of our videos were shot in the early afternoon. This was shot at night after everyone had a long day at work, so our energy level was down. We stuck to our one-take rule, except it turned out to be 1 1/2. My mind struggled to keep 6 verses of a song I hadn't listened to in years straight. I was especially tripped up by the fact that verse 3 and 4 both begin with the phrase "hear that…" Unfortunately, I sang them out of order and they make less sense in that manner. Verse 3 clearly references a last moment before the train pulls away, while verse 4 takes place mid-trip. In the first half-take, I stopped because I realized that I was about to sing verse 4 twice. We stopped other times for various reasons.
I'm playing this with the top string tuned down to D, which creates a different way of getting G major. It isn't difficult per se to get the G chord in this tuning, but my muscle memory worked against me because I'm so used to grabbing a standard G chord. One of the times we stopped was because I grabbed a strange G7 by accident. Once I heard it back in the video, I actually liked it, and I should have kept going. I placed my finger on the G string in the third fret when I was aiming for the D string. Being an excellent rhythm guitar player who picks up a mandolin 2-3 times a year Chatter started the song several times on the bass beat (as you would with a guitar), rather than on the down beat as you would with any half-time instrument (mandolin, drum, etc.). However, on the complete take, she started correctly. While we were shooting this, I didn't even notice any of the times she started on the bass beat, and she always corrected it within a few beats anyway. I love the way she inserted double chops on the mandolin at key points in the song. She and Tipper had heard Jim and Jesse do this song. That was the extent of their foreknowledge. I told them the number of beats in each chord and the pattern. Briefly, you can see my nephew Ben in the foreground (Guitar Man for those who've been reading the Blind Pig for a long time). He is setting up cameras and external recording equipment. My clapping is to help him align the video and audio. However, the footage and audio you see and hear comes straight from my Flip Cam, not his equipment.
About the Picking:
I hadn't listened to Snow's version since I was young. Wanting to avoid copying him, I didn't go back and listen to it. The first break is just something chord-based that I came up with quickly. I remembered that Snow played two breaks, one on the bass strings and one on the bottom strings. He used this format in a lot of his songs. I did the same but reversed the order, going small strings first and large strings second. Fans of this Dove may be interested to know that the guitar didn't bottom out or get weak when I reached way down the neck. My finger placement was just sloppy and I didn't hold the strings down properly. The G-major slide into a "boogie-type" position in the second break is something that I saw Pap do in a song, so I stole that from him. It's probably the best part of the picking. After we shot this, I listened to Snow's original version. There's something interesting about his guitar. He sang it in the key of D (like I did) yet sometimes his guitar sounds like he is playing in an E position. It could simply be that he's playing in a drop D tuning like I am, but to me, it's the bottom strings on his guitar that make it sound like it's in E. In his first break, the top strings sound good but also somewhat dead. He could have had old strings on the guitar for that session, but I wonder if he may have actually tuned all 6 strings down two frets low to play that break in E position while keeping the song in the key of D. I'll probably never know. I've rambled on so long that I don't have any room left for the lyrics, but they're easily found online along with info about how popular this song was in the 50's.
I hope you enjoyed this last video from our train series.  I'm glad Paul left the footage in its entirety instead of editing it down to just the song like we usually do. I think it's interesting for folks to see the interactions that take place between us and to hear the talking and the laughter-which there is always a lot of!
My favorite version of the song is by Jim and Jesse. You can go here to hear it.
Tipper