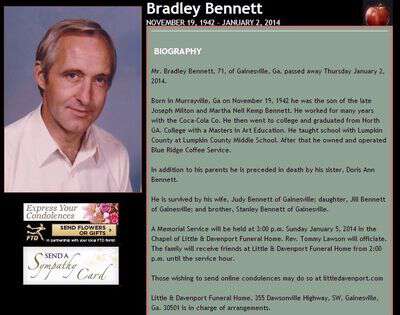 Long time Blind Pig reader Bradley Bennett passed away on Thursday of this week. Bradley was a regular commenter here on the Blind Pig. He often shared memories or information from his life experiences-and he often commented directly to other Blind Pig readers-offering encouragement, sympathy, or just friendly camaraderie. When I searched the archives for a list of Bradley's comments-I discovered 28 full pages of Bradley Bennett's comments. Bradley greatly contributed to the purpose of this blog.
While each of Bradley's comments are valuable and worthy-there are 2 that stand out in my memory. The first one-I printed out and hung above my computer after he left it so I could read it over and over. The second showed Bradley's great love for his wife and his daughter. Since I'm a true Daddy's girl Bradley's story of the little red shoes stuck in my mind-and it'll be there forever.
1. Tipper, Bet you didn't know that you've become my travel agent. True, it is only mind travel but, I guess that's the best kind. Whenever I start to read your blog, I wonder where I'm going today! That gorgeous picture started my mind trip this morning. You (I'm sure by now) know how I love the high country. I can close my eyes and be there in that quiet, green mountain side in an instant. In 1892 the poet William Butler Yeats wrote a poem about "The Lake Isle of Innisfree"; he was writing about a lake isle but that also applies to the mountains for me. In the first stanza he writes: I will arise and go now, and go to Innisfree, and a small cabin build there of clay and wattles made; nine bean rows will I have, a hive for the honey bee, and live alone in the bee-loud glade. If you ever see this poem, you'll love it. He relates how I feel about that picture in the mountains you have given us. Remember that old song by James Taylor, "I'm going to Carolina in my mind" well this morning while everything is still quiet, I'm going! Thanks for the trip Tipper! Bradley

2. Happy Father's Day to the Fathers out there today. Tipper you have sure told everyone how much your Daddy means to you but, let me tell everyone out there what it is like being Daddy. From the time I was a young boy I had always wanted my own daughter. The guy I used to work with (I guess got tired of hearing about it). Whenever I was saying "Hey look, look, see that little girl: you just wait. Some day I'm gonna have one of my own." He would say many times, "Well don't you think it would be better if you waited til' you were married." It would always embarrass me when he said that. When I finally married, we didn't have a child for a while. I remember there was this one little girl (one of our customers) she was so tiny and she always wore red tennis shoes and I loved them. I told Don If I ever had one I was going to get her some little red shoes; He would always say well, get married. Wasn't the best looking thing you ever saw so it took a while. Finally, one Saturday night I was at the hospital and the nurse came and told me "You have a seven pound four ounce little GIRL." Don and his wife were that night. He had tears in his eyes (like the rest of us). He said well, Little Feller, are you gonna get her some little red shoes? Life has been beautiful ever since. I told my wife and all that would listen, "From now on my name is DADDY!" I finally had my daughter.. Never could have more kids but, we were just thankful for her. My name will forever be Daddy.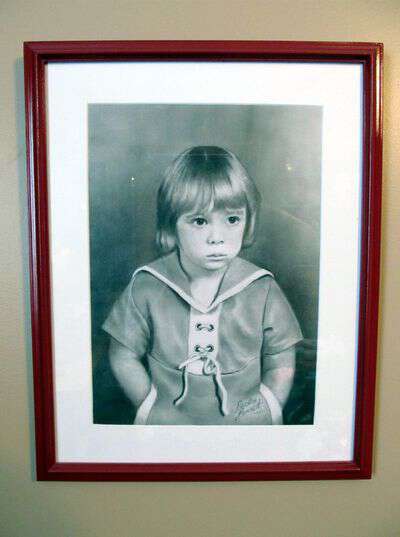 The Girl With The Chinquapin Eyes (Tipper) by Bradley Bennett
Life is funny. I started the Blind Pig & the Acorn hoping for increased wealth for my family. I soon realized two things-the first being I wasn't going to gain wealth in a monetary sense by running the Blind Pig & the Acorn. I make a small amount of money from the blog-but it doesn't even remotely come close to being considered profit when you put it up against the work hours it takes to publish the Blind Pig.
The second thing I realized with utter clarity is there are different types of wealth. The unforeseen wealth I've gained by running the Blind Pig couldn't be bought with all the gold in Fort Knox. Every time a blind pig reader leaves a comment they leave a jewel for me to hold close in my heart-to ponder on as I go about my day. And those like Bradley, who often leave comments, weave their way into the very fabric of my life and become dear sweet friends. In all honesty I 'converse' with some of you more than I do the people I actually 'see'.
Then there's the tangible wealth readers have shared with me: seeds, vinegar, onions, squash, black walnuts, a walnut cracker, artwork, ground cherries, books, beloved books, photos of your family, photos of my family, apples, baskets, antiques, craft supplies, foxfire magazines, cookie cutters-pig and acorn, rings, stone ground cornmeal and grits, a hammer, old jars, old bottles, music, information, writings, cast iron pots, soap, honey, woven treasures, cds, hand forged crosses, poems, quilted pigs and acorns, jellies, jams, pickles, recipes, and on and on and on. Blind Pig readers are a generous bunch of folks.
One of my unforeseen treasures is the drawing you see above. Bradley (who never once mentioned being an artist on the Blind Pig) composed the artwork after he seen the photo of me used in the post The Girl With The Chinquapin Eyes in September of 2011.
..and so it was that once in the high country a little girl was borned with chinquapin eyes that would later be known as "The Angel of Brasstown". My little sister had chinquapin eyes. Tipper, you are the best! Bradley
RIP Bradley Bennett you will be greatly missed by all of us here at the Blind Pig & The Acorn blog.
—————————-
If you would like to read Bradley's obituary you may go here-and if you feel so inspired you may leave your condolences in the guestbook for his wife Judy and his daughter Jill.
Tipper