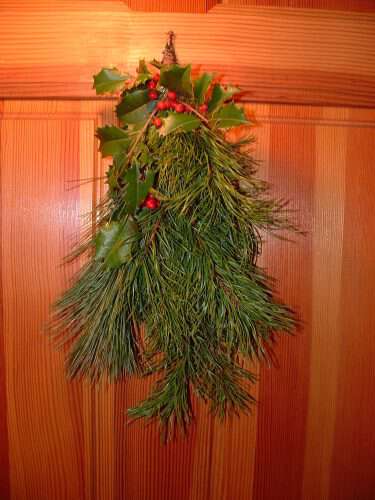 Yesterday when we were talking about greening for Christmas Stacey ask for some tips on using the pine that is plentiful at her house.
Around my area of Appalachia we have an abundance of White Pines and Jack Pines. White Pines are generally easier to work with-mostly cause it's easy to find small ones without leaving my yard.
Some years I cut hand size pieces of white pine and lay/stick them around my other decorations or I cut several larger ones and stick them in a Christmas vase or pitcher.
I learned a very easy way to make a Christmas garland-long or short at the Folk School's Greening. Nanette showed me how to make small bundles of different evergreens.
Secure your bundles. Florist wire works really good-but I used what I had which was a very small gage wire.
Next-get a small size rope or other sturdy string/twine and cut it to the size of garland you want to make. Lay a bundle down on one end of the rope-and attach it securely to the rope with florist wire or in my case-more of what I had on hand. Lay the next bundle on top of the first, but scoot it down the length of the rope a little ways letting it hide the attachment of the first bundle.
Keep working your way down the length of the rope, adding bundles until you reach the end. At the folk school I was in charge of attaching the bundles and I was terrified when we picked up the long garland to put it along the staircase the pieces would all fall out, but as long as you secure each bundle tightly to the rope they stay. You can see the back side of my small little garland…
and see how it looks on my kitchen door not bad for free. It was fun to go out into the yard and gather the greenery and it only took about 15 minutes to make.
Emily left a tip on the Greening post:
a potato makes a great weight and an easy holder for all the greenery you can find in the mountains, from pine, fir, holly and candles can be added.  We decorated the church and our home like this in the 50's & 60's when God's creation was the only available source.  The potato will last 2 – 3 weeks, along with the greenery.  Have fun and be creative.
Emily
Pine can be sticky-so take that into account. Even if you only have time to stick a few pine branches in a vase or pitcher the smell makes the whole house feel more Christmasy.
Tipper