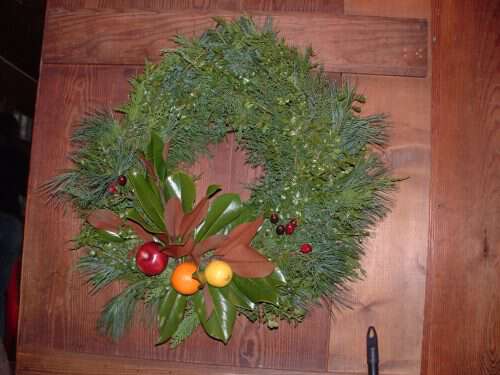 Do you go green at Christmas? Oh I'm not talking about going green for environmental reasons-I'm talking about the age old tradition of decorating with fresh greenery.
I remember a Sunday School teacher I had as a child detailing the importance of using fresh (or fake if you had too) greenery during the Christmas holidays. After all, she said, God instructed Isaiah to adorn the sanctuary with fir, cypress, and pine in the Old Testament-so we should too.
Today-people generally associate mistletoe, holly, magnolia leaves and evergreen trees with the greening of Christmas. Last weekend I joined in with the John C. Campbell Folk School's yearly Greening of the Grounds for Christmas.
What fun we had-all working together like little Christmas Elves. While I enjoyed the decorating-I think what I enjoyed most-was knowing I was taking part in an annual tradition.
One other thought I had-if you are interested in having a 'green' Christmas for the environment-how perfect is using fresh greenery. You borrow from nature's bounty-then when Christmas is over-you throw it all on the compost pile-and there you go-an environmentally friendly way to decorate for Christmas. Of course I can't resist pointing out-using nature's gifts to decorate for Christmas-is a make do with what you've got sort of thing-and that's something folks in Appalachia were good at way before it became cool to be green.
Check back over the coming days for more Christmas traditions from Appalachia.
Do you continue the age old tradition of 'greening' for Christmas at your house?
Tipper