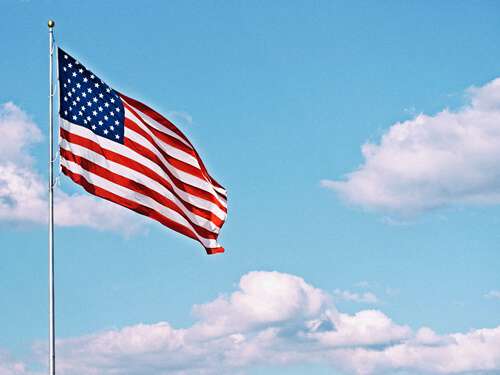 According to Wikipedia, There's A Star Spangled Banner Waving Somewhere was written in 1942 by Paul Roberts and Shelby Darnell.
Darnelle was actually Bob Miller writing under a different name.
The song became one of the most popular war songs of the day. The Folk Archive Website shares this magazine article detailing the success of the song, as well as Miller's angst about the spreading popularity of the song he helped pen:
With Bob Miller, it's either hillbilly or it isn't, and no compromises. He tries to confine his offerings to authentic outlets, and this has caused him some embarrassment. When 'There's A Star-Spangled Banner Waving Somewhere' hit its third million in record and sheet music sales, Miller inserted an ad in Variety asking big-name band leaders 'not' to play it, please. And when the song made the Hit Parade he threatened to sue if it was played. He explains that his reputation as a writer and publisher was at stake. This music, he insists, must have the common touch. It is violated unless done by a true son of the soil, one to the manner born…. To streamline such a number is, says Miller, to break faith with his clientele.

~DORON K. ANTRIM, Colliers magazine, reprinted in Dorothy Horstman, Sing Your Heart Out, Country Boy, New York, NY, 1976, p. 285
Very interesting that the success of the song caused Miller such intense feelings about who actually performed the song.
Over the years many performers have recorded the song. Among them-Elton Britt, Hank Snow, Ray Price, Jimmy Wakely, and the Blind Pig Gang.
—————
There's a Star-Spangled Banner waving somewhere
In a distant land so many miles away.
Only Uncle Sam's great heroes get to go there
Where I wish that I could also live some day.
I'd see Lincoln, Custer, Washington and Perry,
And Nathan Hale and Colin Kelly, too.
There's a Star-Spangled Banner waving somewhere,
Waving o'er the land of heroes brave and true.
In this war with its mad schemes of destruction
Of our country fair and our sweet liberty,
By the mad dictators, leaders of corruption,
Can't the U. S. use a mountain boy like me?
God gave me the right to be a free American,
And for that precious right I'd gladly die.
There's a Star-Spangled Banner waving somewhere,
That is where I want to live when I die.
Though I realize I'm crippled, that is true, sir,
Please don't judge my courage by my twisted leg.
Let me show my Uncle Sam what I can do, sir,
Let me help to bring the Axis down a peg.
If I do some great deed I will be a hero,
And a hero brave is what I want to be.
There's a Star-Spangled Banner waving somewhere,
In that heaven there should be a place for me.
written by Paul Robers and Shelby Darnell (aka Bob Miller)
—————
Paul and Pap changed the words slightly when they sung the song. They learned it from Pap's memory which was probably a little off. Their changing of the list of sur-names might have been intentional. Either way their version is recorded forever on the cd they produced several years ago,  Lamp Lighting Time. You can hear the song below and you can pick up your own copy of the cd here.
On this Veterans Day of 2018 I sincerely thank all Veterans for standing in the gap for the good of me.
Tipper
Subscribe for FREE and get a daily dose of Appalachia in your inbox