Today's guest post was written by Charles Fletcher. Read it to see what Christmas was like when Charles was a boy living in Haywood County, NC.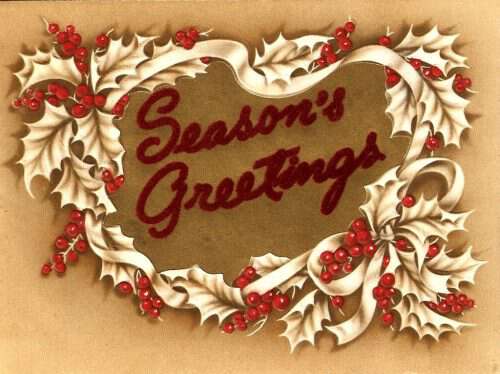 Christmas 1933 written by Charles Fletcher.
We would start getting ready for Christmas in the late fall when the chinquapins started opening. We would gather the small chinquapins and let them dry. They would be part of our Christmas tree decorations when the time came to put up a Christmas tree.
As Christmas drew near the two churches in our area would begin to get their Christmas programs together. There was the Baptist church that we attended and the Methodist church. They would plan their programs so that everyone could attend both programs. We were all neighbors, and we all shared the things that happened in our community. It would be nice if it were the same today. The church leaders would ask the children to do the acting in the Christmas plays. Usually it would be the young girls who acted the parts. We boys were a little shy, and besides, the older boys would tease us if we took part in anything that included girls.
Mom began planning what we were going to have for Christmas dinner. This meal was one of few at which we were to have some sort of meat to go along with the canned beans and the potatoes from the cellar. We would also have sweet potatoes, big biscuits (cat heads), thick milk gravy, and of course one of Mom's special stack cakes. These cakes were made with homemade cane syrup and cooked dried apples. They were about ten or twelve layers high. If some of our neighbors killed a beef, we would have stew beef for the meat. If we were not having beef, we would eat a goose that we would buy from Bert Robinson. He was the janitor at the Beaver Dam School. The price for a goose was somewhere from 50 cents to a dollar. It depended on how large the goose was.
One week before Christmas it was time to get a Christmas tree. Getting a tree was TJ's (my brother) and my job. We would get an axe, and off to the woods we would go. This was not a very hard job because there were plenty of pines and spruce trees to choose from. The tree had to be about five feet tall with plenty of limbs on it.
While we were out looking for the Christmas tree, the girls were busy with their job of getting the decorations ready for the tree. They strung the chinquapins using a darning needle and thread. These strings of chinquapins were garlands for hanging on the tree. The girls would make paper rings out of different colored paper that Dad had brought home from the paper mill. These too would be put together to make a paper chain to hang on the tree.
Next came a fun part for Mom and the girls. Sometimes TJ and I would help too. We would pop a couple large pans of popcorn and string the popcorn into long strands. After we made the strings of popcorn we dyed them different colors. This was done by dipping the strands of corn into different natural dyes. We used pokeberry to make a red dye. We made a brown dye from walnut hulls, and we got a green dye from the bark of several trees.
After we made and hung all our decorations we would make a star from cardboard and place it in the top of the tree. Everything was now in place and we had one of the prettiest Christmas trees in the entire community.
Hanging the stockings from the fireplace mantle was not an easy job, because we usually didn't wear any socks. We wore our shoes without socks. After searching through the house we would each find a sock to put above the fireplace, even if it wasn't one of our own.
On Christmas Eve everyone was excited. We would go to bed a lot earlier than usual. Santa Clause could come at any time, and if anyone was up and about in the house, he might fly on by and not stop. We would lie really quiet in bed listening for the bells on his sleigh. We would try to stay awake as long as we could so that we might hear Santa coming to our house.
On Christmas morning we children were the first ones to get out of bed and go into the sitting room where the tree and our stockings were. Presents would be under the tree, they each had a name on them. The girls opened theirs first. The youngest was first. Inside her package was a pretty new dress and some underwear. Then it was the next girl's turn. Would you believe it-she also had a new dress and some underwear. I don't know if they were store bought or if Mom had made them from flour sacks.
Next it was time for TJ and me to open our brown paper bags. TJ was first; he had a new pair of denim pants and a blue cotton shirt. Then I opened my bag, and I got the same things TJ did-pants and a shirt. We were happy with our gifts. We usually got overalls. We were getting older and we wanted to dress differently than the little boys.
Then we went directly to the fireplace to check our stockings. Each one had the same things in it: a couple sticks of candy, an apple and an orange. The dresses, pants, and shirts were forgotten now.
"Don't you kids eat any of that yet!" my Mother hollered. "You'll spoil your breakfast and we have a good one this morning."
We went to the long wooden table where there were hot biscuits, fried eggs, milk gravy, apple sauce, and home made country sausage that Mom had canned when we killed a hog last fall. This sure was great eating. After breakfast we went back to our candy. Soon it was dinner-time, and we went back to the long table for a special Christmas meal.
It would be another year before this would take place again. We were all happy; no one was sick; we had enough to eat; and most of all, we loved each other. We were thankful for what we had. During these hard times in the early 1930s a lot of people had less than we did.
———————–
I hope you enjoyed Charles's childhood memories as much as I did-leave him a comment and I'll make sure he reads it.
Tipper