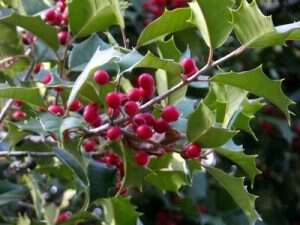 From songs to decorations-Holly is all over Christmas. I've never given any thought to where holly trees grow until the other day. I over heard someone saying since they left the north east they sorely missed seeing the red berries on the holly trees this time of the year.
I assumed everyone in the US got to enjoy holly trees-so prettily decorated by nature. The woods surrounding my mountain holler are chock full of holly trees. The Deer Hunter has told me for years-the biggest holly tree he's ever seen is up the creek in the Tom Cove.
There are 3 holly trees on my road that never fail to catch my eye during the holiday season. Each tree is only a hop skip and a jump from the other. In fact as I write this I do believe you could draw a diagonal line between the 3 and it would be fairly straight.
The first tree is in the yard of the first house on my road-a big white farm house-which is also by far the oldest house on my road. I've known the folks who lived there my entire life-first the elder couple-then their Grandson-now their Great Grandson. Now as I think about where holly trees grow-I wonder if their tree was left by chance-or if Clarence and Ruby, the elder couple, loved the red berries as much as I do and made sure the tree grew unhindered.
The second holly tree is just up the road, but out in the pasture. A little set of woods that breaks up the large pasture is home to that very large holly tree.
The third holly tree is a little further up the road-around the curve. It's not as large as the first 2 trees and it grows just outside the fence-all close up to the barb wire like it wishes it was in the pasture too.
As I was trying to find the natural growing range for holly trees-I found this page-you can jump over to see a map highlighting the growth areas. Also especially fitting was this quote from the page:
H. E. Grelen

When the Pilgrims landed the week before Christmas in 1620 on the coast of what is now Massachusetts, the evergreen, prickly leaves and red berries of American holly (Ilex opaca) reminded them of the English holly (Ilex aquifolium), a symbol of Christmas for centuries in England and Europe (13,26). Since then American holly, also called white holly or Christmas holly, has been one of the most valuable and popular trees in the Eastern United States for its foliage and berries, used for Christmas decorations, and for ornamental plantings.
Do Holly Trees grown naturally around your place?
Tipper
Appalachia Through My Eyes – A series of photographs from my life in Southern Appalachia.