Today's guestpost was written by Charles Fletcher.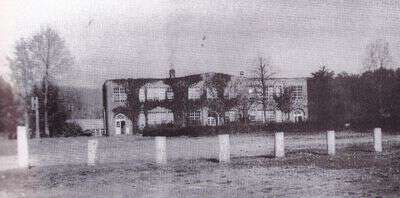 Old Murphy High School-Built in 1920. Photo courtesy Cherokee County Historical Museum.
TEACHERS PET written by Charles Fletcher
As I think back to the happy days in the new Beaverdam School, I realize many funny things happened too. And some not so funny. Here is one of those things and I don't know what category you would call it.
Back in the 1930's during the great depression a lot of poor people lived in the mountains of Western North Carolina. My family was some of those people. All of our family had to do their share in finding ways to have something to eat. We depended on whatever come our way.
I remember the many giant chestnuts that were on the mountains. Many were near a hundred feet high with a diameter of ten or more feet across the bottom. When they bloomed in the spring the mountains looked like they were covered with snow. Only the people near my age today ever saw this beautiful scene.
In the fall when the trees began to drop their fruit, the ground would be covered with shinny black nuts. Not only did the animals depend on them for food, people like me and my family made certain we collected our share.
Come Sunday noon after we finished our dinner, (dinner is at noon and supper the evening meal to mountain people.) My mom would give all us children one of her pillow slips and send us on our way to one of the many chestnut trees to gather their sweet black nuts. When we returned mom would put on a pan of water and boil some nuts. In the oven of the old wood stove she would bake another batch. Then came the part we were waiting for. Eating chestnuts.
Lets get back to the school house and what happened the following Monday.
Beaverdam school was made from brick in 1932. Brick on the outside, wooden floors on the inside. Plenty of windows but no fans or air conditioning. Our heat for warmth in those bitter cold winters was from hot water flowing through big iron things along the wall we called radiators. Not much heat but better than what we were used to in the old one room school we first went to. For ventilation we would open the windows so the cool mountain air could come inside. On the cold days we never opened the windows.
I was in the fourth grade of school and we had the best teacher in Beaverdam school. A lady teacher by the name of King. We all called her Miss King.
I'm sure you know the gas and smell our digestive system makes when we eat certain foods like dried beans, sweet potatoes, and other foods but the granddaddy of them all is boiled chestnuts. Miss King was aware of the chestnut season and asked all her students to not eat them before or during the days we were in her class. Most of us did what she asked. No chestnuts while in school.
I sat behind the smartest student in the fourth grade. Her name was Betty. She made sure that I could see the answers when I didn't know them. With this arrangement I was a "A" student.
Betty had one bad habit. She loved to eat. There was always something hid in her desk that she would sneak and eat during the day. And this eating habit showed with Betty and her figure. She was a little on the plump side.
This day was one of those Mondays when everyone had been eating chestnuts and Betty had a passion for the sweetness of these nuts.
Miss King had assigned us our work that morning and it was as quite as a mouse in the class room.
I glanced up and saw all the other students in class looking straight at me. That is everyone but Betty. Miss King walked up to my desk and didn't say a word. Just stood there with everyone staring and grinning at me.
I always took the blame if I had it coming but this wasn't my doing so I had to defend myself.
In a low softy voice I said to my teacher.
"Miss King, that wasn't me, I cooped my hand over my mouth and said to her. "Betty pooted."
The class was all laughing except Betty. She was on me like a jaybird tearing into me. Only Miss King saved me for a sure death. She held Betty and I headed to the back of the room. Miss King told Betty she could be dismissed for the rest of the day and I was promoted to a seat in the back of the room.
Betty came back to school on Tuesday. I lost my friend and the good grades I once made all from Betty's love of boiled chestnuts.
——————-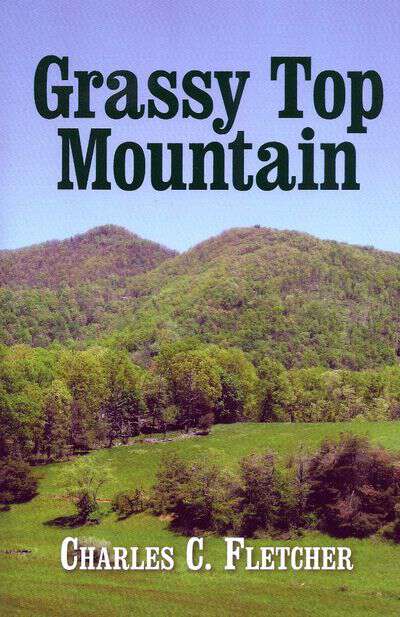 I hope you enjoyed Charles's memories of the classroom and chestnuts as much as I did. A few months back, Charles published his 5th book-Grassy Top Mountain-not bad for someone who just turned 90.
Me and Granny both loved Grassy Top Mountain. The book tells the story of a mountain family who struggled along life's road until their new neighbors reached out to help lighten their load. Charles has generously donated a specially signed copy for one of you-all you have to do to be entered in the giveaway is leave a comment on this post. Giveaway ends Sunday April 29, 2012.
If you'd like to buy your own copy of Grassy Top Mountain-or any of Charles's other books you can go to Amazon books, Barns And Nobel, or any other major book stores to find them.
Tipper