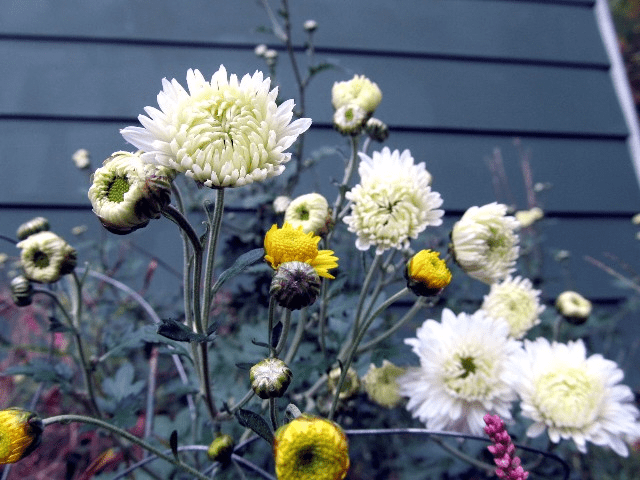 Every year fall seemingly arrives when we have several consecutive cool mornings in the far western mountains of North Carolina. Only fall isn't really here, the luscious refreshing temperatures are only a tease. Before you know it summer is back with a vengeance bringing with it high humidity and temps in the upper 80s and low 90s.
The recent hurricane named Nate brought what felt like the muggiest weather of the summer to me. Maybe it wasn't all that bad, maybe it was just that we'd had a cool spell that made me believe fall of the year had really arrived.
One evening this week as I walked up to Granny's front porch after work I noticed her mums were laying in the yard instead of standing at attention like they were a few short days ago.
Granny's are old timey mums. They grow tall and leggy and they fall down to sprawl in the grass from the weight of their blooms. It's almost as if their cheery faces arrive to spit in the eye of cooler weather; but quickly give up the good fight and surrender to fall's cooler temperatures by falling prostrate on the faded grass of a dying summer.
According to the Frank C. Brown Collection of NC Folklore, the flowers used to be called White and Yellow Octobers in North Carolina.
As I stepped over Granny's mums again today I thought to myself "No wonder the weather man is forecasting temps in the 30s for next week, fall of the year must almost be here for real because Granny's mums are on the ground."
In the future if Granny's mums aren't lying on the ground I'll know the cool seductive temperatures are only a tease from fall and that it'll be at least a few more weeks before fall of the year arrives for good.
Tipper