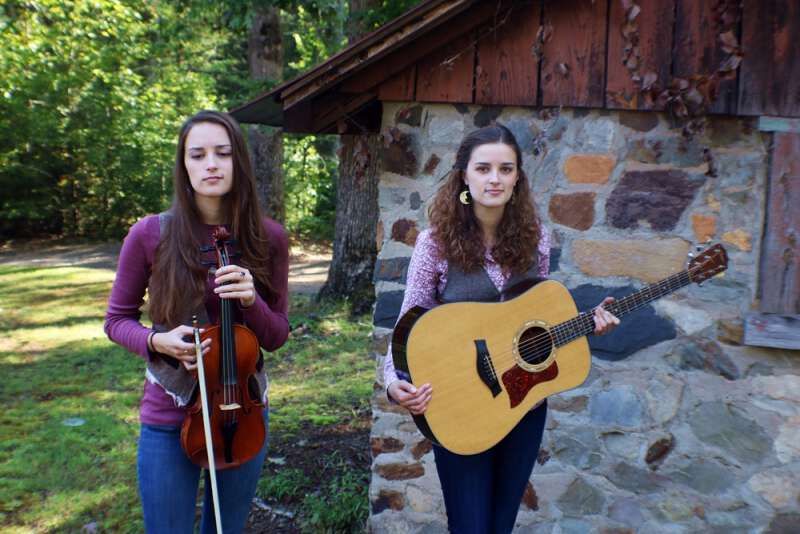 Photo from The Pressley Girls' cd cover shoot at the John C. Campbell Folk School
If you've been reading the Blind Pig and The Acorn for a good while you already know what an important role the John C. Campbell Folk School plays in our lives. Several recent happenings have made me dwell on the way the folk school has shaped the girls' lives and mine too.
For well over five years the girls and I spent every Monday afternoon at the folk school. During the winter clogging practice was inside the historic Keith House and during the summer it was in the open barn.
The folk school's annual fall festival was the very first outing of that sort that I took the girls to by myself. They were probably three years old. The Deer Hunter was busy but I wanted to go! So go I did making the girls promise they'd never let go of my hand for one minute and they didn't. They've been to every fall festival since-other than the one it rained out.
From May Day Parades to contra dancing to concerts there have been lots of other functions at the folk school that we've participated in.
I've never asked the girls but I'm positive they'd agree with me when I say their largest musical influence is Pap and Paul, but coming in a close second are the various musicians who are part of the John C. Campbell Folk School community. From the time the girls first starting playing instruments till now there's always someone willing to give an impromptu music lesson or teach them a new song.
The folk school is a store-house of folk ways, folk ways that are directly related in an intimate way to our heritage and culture. But the folk school also has a way of bringing the world at large to Brasstown. The school welcomes other cultures and shares them with whoever might want to take part.
At last summer's Dance Musicians Week the girls came home playing a French tune called Aimee Gagnon.  They've since taught it to Paul and me. We've had a ton of fun playing it around the house. At last week's practice Paul said "Now what'a you bet I wake up in the middle of the night with that in my head?" I said "We all will!"
Its a great song, take a listen and see if you don't agree.
I hope you enjoyed the song-you may have it in your head now!
The girls's debut cd was supposed to ship on Friday, but now it looks like it'll be next Wednesday. I'll let you know when it finally gets here!
*UPDATE!! The cd arrived! Go here to pick up your own copy!
Tipper