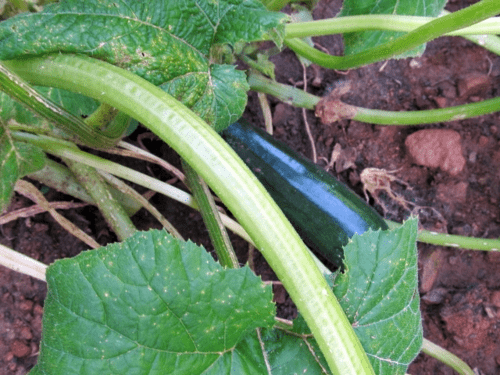 When I returned from vacation, more than a few of my squash and zucchini plants were suffering from the abundant rainfall Brasstown received in my absence.
If you've grown squash or zucchini before you have experienced the same issue after a prolonged rainy spell. The bottom leaves were all slimy and the ones above them were yellow and droopy.
I headed to the garden with my handy dandy serrated kitchen knife thinking I was going to pull up some of the plants and plant a few more hills in their place. The Deer Hunter makes fun of me for using the old kitchen knife-but I swear it works for all sorts of garden chores.
I pulled out the first squash plant I came to and threw it over the bank. But the next one had a few blooms and the leaves on top looked pretty healthy. As I stood pondering on whether to pull it out or leave it I sudden thought "Why don't I just trim it?" So I did.
I went around cutting off all the slimy underneath leaves and left the rest. I figured it couldn't hurt and maybe it would let the plants dry out and continue to grow those blooms into squash. My method seems to be working-the plants look so much better.
I thought I might have discovered a new trick, but a quick google showed me a lot folks cut their squash plants back. Do you?
Tipper