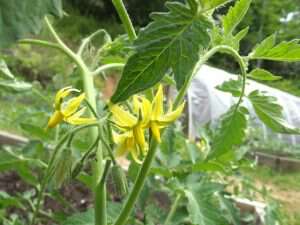 This year The Deer Hunter and I have planted more tomato plants than ever before. Partly because we need to grow more of our own food due to the current economic situation-partly because we've had several tomato plants given to us.
We've planted hybrids-like Better Boys, Celebrity, Parks Whoppers, and Romas. But the ones I'm most excited about are the heirloom varieties we planted-they include, Brandywines, Lady Lucy, and Sweet Orange. We've had more than a few 'volunteer' plants come up from last year-so who knows what those will be.
The Deer Hunter has added support to most of the plants and some are already setting fruit.
I've heard all sorts of advice on growing great tomatoes-from putting lime around the plant to placing a dead fish in each hole as you plant. One tip I've always been confused on is the whole 'suckering' deal.
I've been told you should sucker the plants to ensure the energy and nutrients go to producing the actual tomato instead of producing extra plant growth. As tomato plants grow they can become heavy and unwieldy-the pruning/suckering also helps with that issue. However not all folks believe in suckering.
Many folks believe you get more tomatoes by letting all those suckers grow and set fruit. They do admit that the fruit will be smaller-but feel the number of tomatoes produced is more important than the size of the tomatoes produced.
As I researched pruning tomatoes this morning-I found some interesting tidbits:
~Never sucker or add supports to your tomato plants when they are wet.
~There are 2 different types of suckering-the simple method of removing the entire sucker-and the Missouri Method of only pinching off the tip of the sucker leaving the rest of the shoot to help in the photosynthesis process.
~Determinate plants usually don't need any pruning as they are 'determinate' in what they will produce (however some folks say you should sucker them below the first flower cluster)
~All those suckers you remove-can be planted-and grown into more tomato plants.
~At the end of the growing season-approximately 30 days before the last frost-the tomato plants should be topped of all new growth to ensure the fruit already set has ample energy to ripen before a killing frost.
Basically a boat load of contradictory advice is what I found! Do you sucker yours? Got any other tricks or advice for growing tomatoes? I'd love to hear about it leave me a comment!
Tipper