Today's post brings you the second letter from the packet of Civil War Letters found in the old house by the TVA Lake-written by WC Penland who was 18 years old.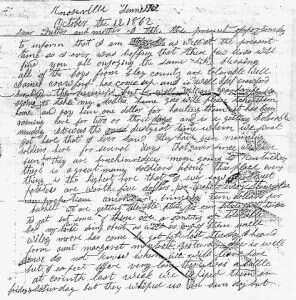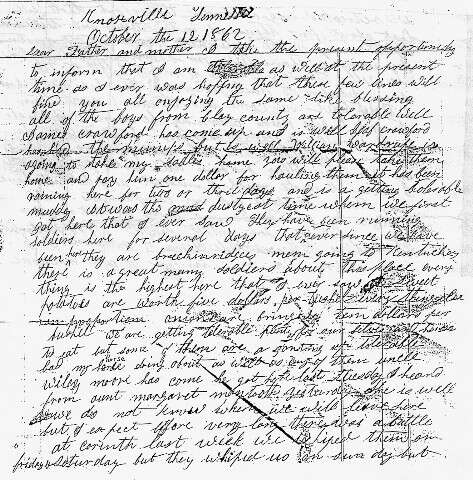 Camp Near Taylorsville Johnson County Tennessee
Nov 23rd 1862
Dear Father and Mother
I take my pen in hand to write you a few lines to inform you that I am well and doing tolerable well    hoping that these few lines will find you all enjoying the same blessing    I was out on scout day before yesterday and got in last night    It snowed a right smart snow while I was out    It is very muddy here at this time    there has been right smart of rain here lately    there is a good many sick men in camps    now I think there is between sixty and one hundred men down with the measles in the battalion    there is a not very many in our company    Dan Ledford and Arch Henson both have had them but are a getting better    We are a going to move to morrow about 8 miles and station for a while    but I do not know how long    I have not drawn any money as yet but I think that I will draw soon    we are a getting a plenty of corn and hay for our horses and a plenty of beef and cornbread to eat ourselves    I can do better on the fare than I thought I could    I am as healthy at this time as I ever was in my life    there has been the most snow in this country that I ever saw at this time of the year    but it looks at this time like we might have some right nice weather    but it clouds up and snows the quickest it seems to me that I ever saw it    I have never heard a word from home since I left there    it seems to me that you haven't been a long time a writing or the letters have been misplaced    I begin to want to hear from home    I do not know when I will come home but I expect I will be there sometime this winter but I do not know    Franklin Brown has been to Knoxville and there is no letters there for us    he has gone back and I do hope that he will bring us some news if he does not I will think that I will not get any soon    I have wrote about five or six letters to you and one to Uncle Charles Penland and have never got any answer    tell Mr. Sherman that John Sherman is well at the present time    Cousin Robert Alexander is well also and has been ever since he left home    I would like to be at home to get some good apples as I have not got any good ones since I left home    everything is the highest that I ever saw it    leather is worth $7.00 per pound and every thing else in proportion    We are about twenty five miles from the salt works and salt is worth 20.00 per bushel at the works    as it is getting late I will bring my letter to a close sure and write soon and give me the news of the day
Address Taylorsville Johnson Co Tenn 7th Battalion NC Calvery Co B in care of Capt Moore
so no more at present but remain your affectionate son to his father and mother
so fare you well
W C Penland
My favorite line of the letter is 'I begin to want to hear from home'. As WC writes of missing home-and wondering why he hasn't received any letters from his family-you can peek into his innermost feelings and sum it up by saying he was surely homesick.
What was your favorite part?
Tipper