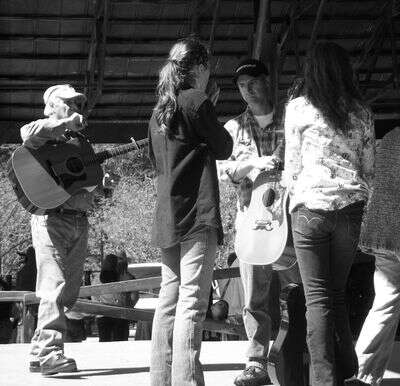 Tonight's the night-The Blind Pig Gang will perform at the Union County Historical Society in Blairsville GA at 7:00 p.m. (the old courthouse). I'm excited about getting to meet some of you for the first time-and meeting up with some of you who have become good friends since I first started the Blind Pig & The Acorn. But my mind's been on those of you who can't come-who live much too far away to even think about it.
I was daydreaming about how if I was super rich I could hire somebody to film us and stream it live over the Blind Pig-wouldn't that be cool! As I come back to reality I started thinking about all the songs I've shared with you over the nearly 5 years since I started this blog.
I ask myself what was the very first song I posted? I thought I knew,-but went back through the archives to see if I was right-I was. It was an old Simon & Garfunkle song El Condor Pasa.
Back then I didn't even have a video camera. Chitter videoed the song with her little camera. She moved around a lot, got right in Pap and Paul's faces, and filmed more than a few foot shots. If you look close you can see me sitting in the background and Chatter filming with her own camera.
I hadn't watched that video in forever! We don't even do the song anymore. Once Mandolin Man entered high school and the work force, he didn't have time to play with us much anymore. And the song just didn't sound right with out his mandolin-so we gave it up.
The song has an interesting history.
In 1913 Daniel Robles wrote a play named El Condor Pasa (The Condor Goes By). The story was set in the Cerro de Pasco mines of Peru. The play showed the struggle miners had surviving poor working conditions and corrupt mine owners. The symbolism of the play being-the Condor flying away to freedom-like the miners longed to do.
El Condor Pasa, the title song, was a huge hit. It was an instrumental and became popular worldwide. In 1970 Paul Simon wrote lyrics to go with the music. Simon and Garfunkel released the song on their 1970 album Bridge Over Troubled Water.
I love the song-my favorite line is "I'd rather feel the Earth beneath my feet." Have you ever really felt the Earth beneath your feet? I have and it's a pretty special feeling.
Hope to see some of you tonight-and I'll try my best to wrangle somebody into videoing part of it for the rest of you!
Tipper