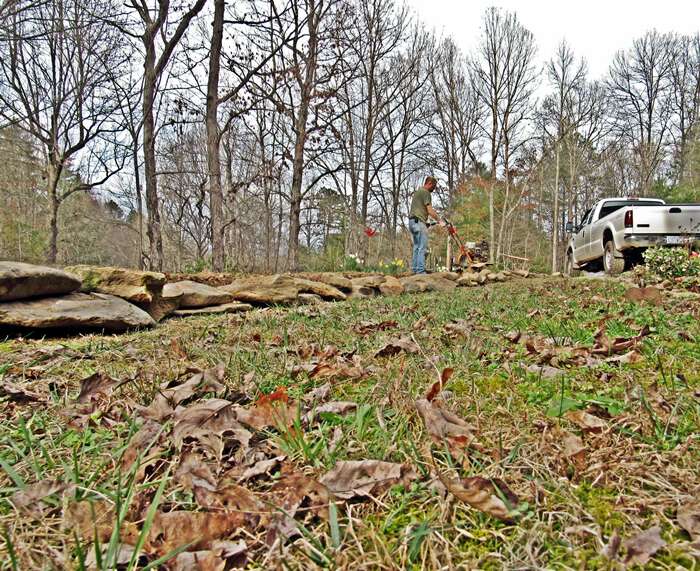 break new land, break up new ground verb phrase To clear an area of trees and brush so it can be cultivated. Cf clean off, grub.
1939 Hall Coll. Saunook NC After breakin' new land, it's new ground and is not called such after two or three years. Sprouts of sassafras, locust, and running briers come up during that time, and you have to keep 'em cut down. (Robert McClure) 1981 Whitener Folk-ways 26 Sometimes a mountain farmer could hear his neighbor plowing or breaking up a new-ground.
Dictionary of Smoky Mountain English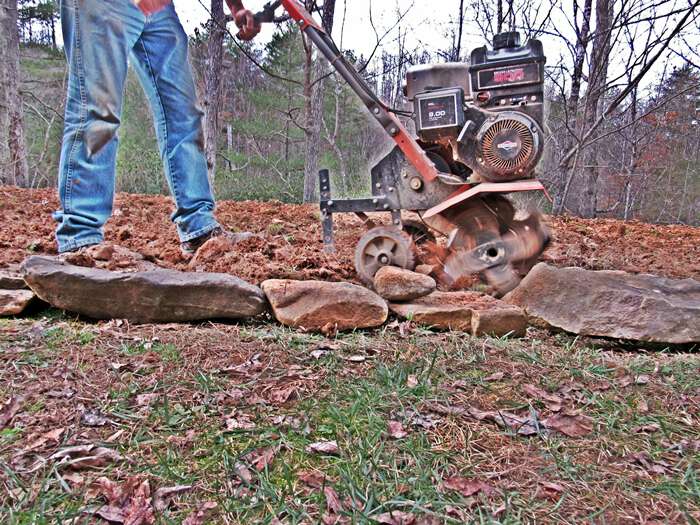 We have tried to break new ground just about every year since we started gardening. After the girls got to a certain age it seemed they used the yard less and less. And The Deer Hunter will tell you he likes mowing the yard less and less too.
In the beginning we had one smallish garden area right in front of the house. Each year we expanded it a little bit on two sides.
Several years ago after the swing sets were no longer needed, we built the greenhouse in the back yard, and the next year we added 5 raised beds alongside it.
A few years later I gave up my long perennial flower bed for the best bean patch you ever seen! And the following year we enlarged the bean patch.
Last Saturday we enlarged the bean patch again. It was The Deer Hunter's suggestion. I said "Well we're eating up more and more of the yard." He said "So? That's less I have to mow."
I sat on a bucket and watched him break up the new ground. Let me tell you the first go around is hard plowing. Large rocks are beyond plentiful in our soil. The Deer Hunter's tiller would literally dance all over them before ever digging in to turn the dirt. More than one of the rocks had to be removed with a mattock. Of course the next pass through is easier and the one after that even easier.
As The Deer Hunter wiped his brow I couldn't resist saying "What if you had to do that with a mule and plow?" Never one to leave the last word unsaid he replied "I could do it." I smiled and said "I know you could."
Tipper