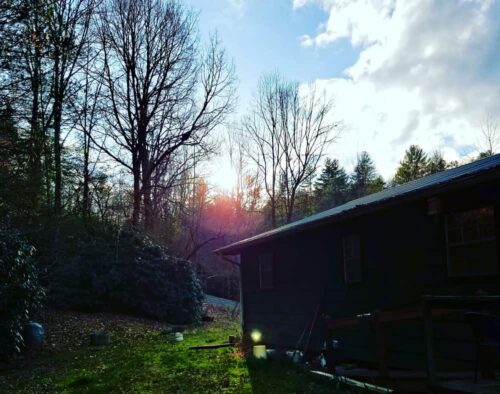 It's time for this month's Appalachian Vocabulary Test.
I'm sharing a few videos to let you hear the words and phrases. To start the videos click on them.
1. Write a good hand: to have good handwriting. "I was always envious of people who could write a good hand. My writing has always looked like chicken scratch."
2. Worriment: trouble, worry. I'm so glad that whole mess has worked itself out. It's sure been a worriement for Granny since last fall.
3. Woods loafer: a person who lived in the woods and survived by hunting, fishing, and gathering but was thought to lack industry by the rest of society (Brown). "The Deer Hunter and I finally have a name for our dream life: we want to become woods loafers."
4. Yeller/Yella: yellow. "I seen the first yella peeking through the woods last week. The sunshine and warmer temperatures have the daffodils blooming throughout Brasstown."
5. Yellow root: plant medicinal remedies for mouth and throat are made from. "There's a big patch of yella root down behind Paul's house by the creek."
Hope you'll leave a comment and let me know how you did on this month's test. Although I'm familiar with worriment not many folks are using that one today. I've never heard of woods loafer nor even noticed it in the dictionary until writing up this test, but boy I like it 🙂
Last night's video: How To Easily Force Blooms & Folk Dancing in Appalachia.
Tipper
Subscribe for FREE and get a daily dose of Appalachia in your inbox