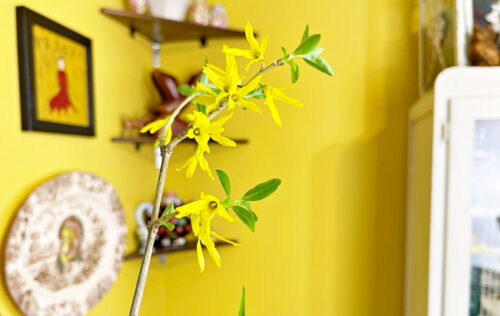 When I was a girl Granny would go out into the cold and cut sprigs from her yellow bells and bridal wreath bush. She'd put the limbs in a pitcher of water in the kitchen. In about a week they would sprout in full bloom even though the winter wind was still blowing outside.
Several years ago I got spring fever and decided I wanted to force some blooms in my kitchen. A few quick searches showed me most bloom forcing directions are complicated. I decided to do what Granny did (that's what I should have done in the first place!) and put my branches in a container of water by my kitchen window.
In a few days I had spring blooms brightening my kitchen while there was a skiff of snow outside on the ground.
With the warm temperatures we've been having this week our yellow bells and bridal wreath bush will soon be blooming outside, but until then I have enjoyed the yellow bell sprigs singing their song of spring of the year in my kitchen.
Last night's video: Winter Depression in Appalachia – I'd Rather Be In Some Dark Hollow.
Tipper
Subscribe for FREE and get a daily dose of Appalachia in your inbox