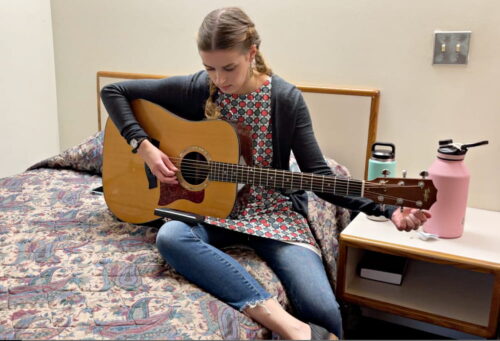 marrying noun A wedding ceremony.
1865 Larue CW Letters (Jan 5) you and John ou[gh]t to bin at home a christmas for there was a grait meny Marrings. 1937 Campbell KY Mt Community 549 Whenever you set a date fer the marrying, no kinder weather nor nothing ort to stop hit. 1941 Still Troublesome Creek 102 Only a funeral occasion or a marrying would draw such a swarm. 1962 Dykeman Tall Woman 159 Young'uns always have one thing or another ailing them, but a marrying don't come along but once in a coon's age.
—Dictionary of Southern Appalachian English
---
Marryings, or specifically one marrying, has been taking up all our time. The day of Chatter and Austin's wedding is speeding towards us faster than a knife through hot butter.
On one hand I'm anxious for the whole thing to be over with so that they can start their life together, on the other hand I can hardly believe my guitar playing girl with the sweetest turn I've ever witnessed is about to be married with her own house.
Chatter and I both cry easily. Not in the sense that we are truly hurting over something, but in the sense that emotions—even really good ones—quickly bring tears to our eyes. We can barely get through a wedding discussion without one of us getting teary-eyed.
Friends of the family have graciously allowed us to hold the wedding in their beautiful home. Yesterday we were going over some details when I felt the tears starting. I wasn't going to say a word, but Chatter happen to look at me. She said "Mom now don't start your stuff!" We both started crying and laughing at the same time 🙂
I remember how hard I tried not to cry at mine and The Deer Hunter's wedding. I managed to keep the tears at bay until Pap and I stood waiting for the signal to walk in. He looked at me and said "Tipper I want you to know I'm proud of you. I couldn't have picked a better person than Matt for you to marry." Needless to say my dam of reserve broke and the tears freely flowed.
The Deer Hunter and I are beyond blessed to feel the exact same way about Austin. He's the son we never had and we have no doubts about the love and care he will show our daughter.
---
Last night's video: Best Bread Machine Loaf Recipe with Tomatoes & Eggs – My Favorite Quick Supper in Appalachia.
Tipper
Subscribe for FREE and get a daily dose of Appalachia in your inbox