Today's guest post was written by Dean Rathbone.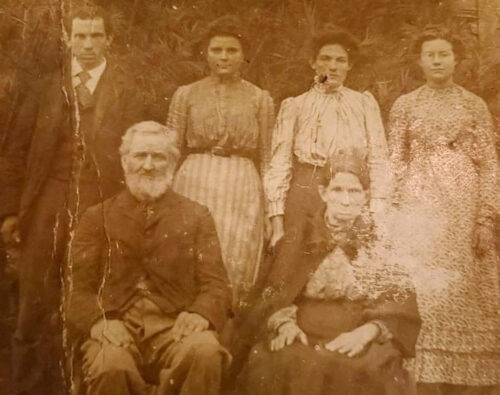 My great grandparents, John McElrath and Dorcas Quilliams McElrath. Grandpa Charlie,
Minnie, Fanny, and Rachel. They are in front of their little cabin by the
Fincher Spring, just around from the Crawford Gap
For the past couple of weeks I've been suffering with sciatic nerve pain caused by scar tissue. It put me in the bed for the first day or two. I worried about my soon to be 95 year old mother and whether I would be able to help her. I soon found that my worries were unfounded. She insisted on stepping back into the household routine just like she was 50 years younger. Of course my sister and I helped her with a few chores, but for the most part, she has been amazing. I've probably gained 10lbs from her good cooking! It has seemed to give her a new purpose and lease on life. I always try to look for the positive side of any situation, no matter how unpleasant it is. My inability to get out of the house much has allowed my Mother and I to talk more. She would pop a big bowl of popcorn and we would sit beside the warm fire, eat it, and remember. She said something this morning that made me think. She said, "If we can both get through the worry months, we'll be alright." I asked her what she meant by "worry months" and this is what she shared with me.
When I was a little girl back in the 1930s, the old people would call January and February the worry months. They both end in worry fer a reason, you know. People today just don't understand how hard it was fer the settlers here in the mountains to survive. Poppie was born in 1878 and he said the 1930s was just as bad as the 1880s here in the mountains. The Depression made em fall back to the old way of doin' things. Ye had a lot of things to worry about durin' January and February.
If the growin' season the year before had been bad, ye worried about whether ye had enough food put up to get ye by. If it had frosted late into the Spring the year before, then the berry and apple crops were scarce. We canned and dried anything that we could get our hands on, but if it wasn't there to gather, ye worried about havin' enough to get you through the winter. The weather always got worse in January and February. Ye worried about havin' enough feed fer the livestock, or if it snowed, how would ye get out to feed em or water em. Nobody had electricity back then, so ye heated with a fireplace. If the temperature dropped below zero, the water froze in the water buckets and ye canned goods froze and broke. That was a big loss.
But, the biggest worry was fer the sickness. We didn't have the antibiotics back then that ye have today. We just had sulfur drugs. A bad cold could kill ye back then. The bad diseases seemed to strike durin' January and February. Everybody stayed inside by the fire more and the diseases spread among the family members. Ye worried about the old people and the very young a makin' it through the worry months. 
We always tried to look fer the brighter things in life durin' the worry months. We would sit around the fireplace and sing, or Poppie would read us a story from a book or magazine. We'd eat popcorn just like we are now and tell stories. Poppie never told many stories; he was a quiet man. But, he told one story about the worry months that I will always remember.
He said that one year back in the 1880s January and February were really bad. They lived way up yonder on the mountain in a high mountain cove, around from the Crawford Gap. It has snowed and snowed up there until the snow was over 4ft deep. Then the temperature dropped below zero. They were all stuck in their little log cabin when they all come down with the flu. They couldn't get out to get wood, so they were about to freeze to death. But, neighbors watched out fer one another back then. Poppie said that there were about as many Cherokee families livin' around here back then, as settlers. His mommie was part Cherokee and their closest neighbors were Cherokee. He said that they noticed that something wasn't right at their cabin, so they stood in the door and asked what was wrong. They told them that they were all sick. So, their Cherokee neighbors took care of the livestock, kept them supplied with firewood and they brought food to them until Poppie's family could take over the work.  The Cherokee  kept them alive durin' those worry months.
It was the same way back in the 1930s. People looked after one another. People say that people won't help one another today, but I think they are wrong. We are just too proud now to let somebody help us. Our neighbors would stand with ye if we would just let em. Look at the help we've had while you've been down. People still have a heart. And then, there is always Spring. Things always get better in the Spring. Come Spring, these old worry months will just be a memory."
I'm just about back to my old self, but I understand what the worry months are now. I saw my mother gain a new lease on life in response to the worry months. I've learned that people still have a good heart.
---
I hope you enjoyed Dean's post as much as I did. I will always think of January and February as the worry months after reading it.
Tipper
Subscribe for FREE and get a daily dose of Appalachia in your inbox