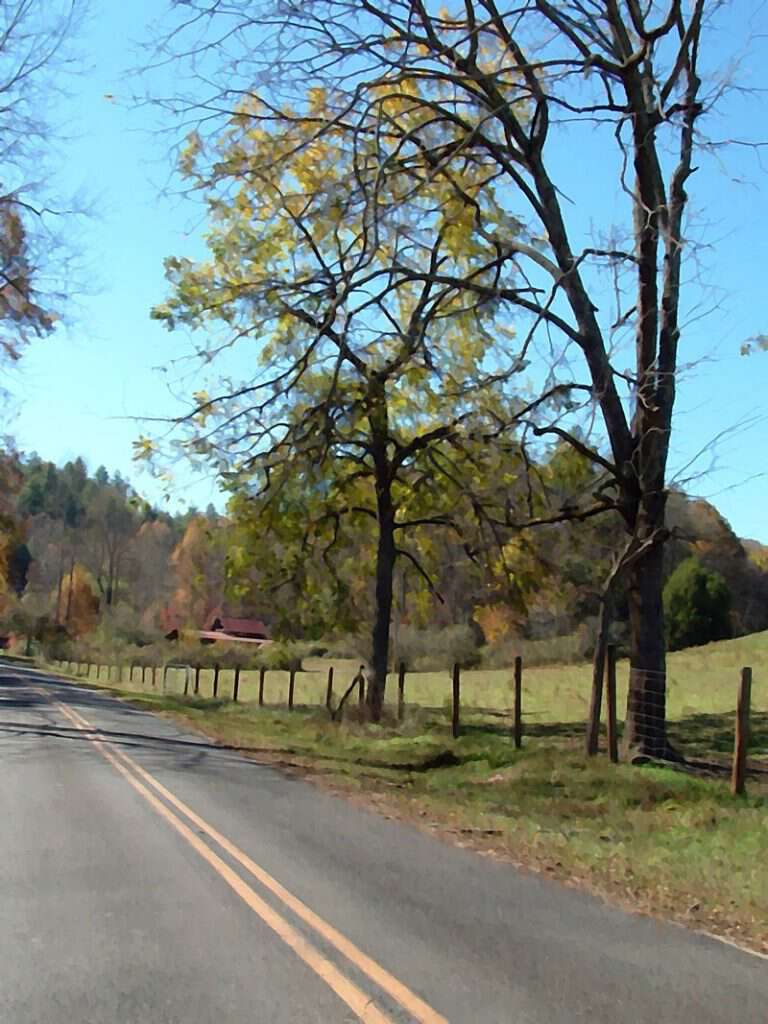 Black Walnut trees grow throughout Appalachia-they happen to be my favorite tree. I like to eat their nuts-but that isn't the reason they're my favorite tree.
Their dark trunk and branches call out to me in a way I can't explain. The first fall Chitter noticed the trees lost their leaves she was worried about them-telling me "Momma look the trees are naked. What happened to their clothes? They'll all freeze to death." In my opinion-when a Black Walnut tree is 'naked' there is no other tree that compares to it's beauty-it almost takes on an old world royal appearance to my eyes. Their stately look makes me think of yellow violets that grow wild in the woods around my house-they too have an aura of being above the fray of the common folk.
Black Walnuts can grow to heights over 100 feet. Walnuts loose their leaves quickly once fall arrives-but first turn a vibrant yellow. The bark of the tree has deep furrows in it-that makes the tree as a whole take on a black look-especially in the winter.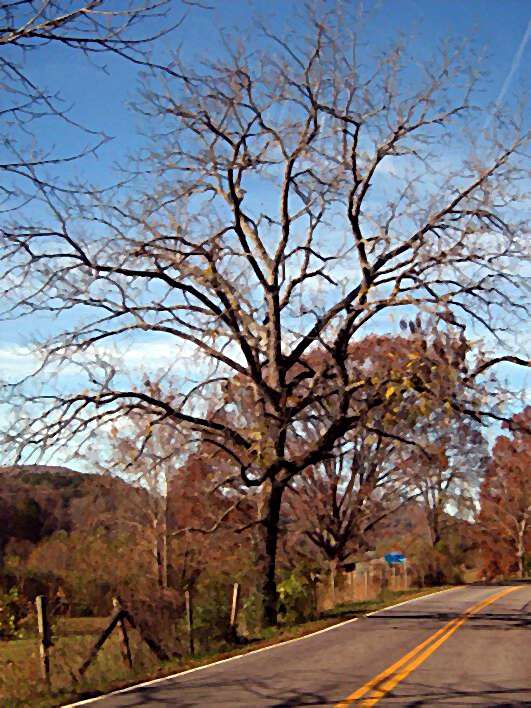 The trees have predominately been valued for their nuts-but rating just as high is the value of their wood. From gun stocks to furniture the wood is still in high demand today-just as it has been in the past. Also highly valued is the brown dye that comes from the outer hull of the walnut-it is still used to dye fabric, yarn, wood and other items.
Black Walnuts have even aided in the health of past and present generations. The juice from the nut hulls were widely used for skin aliments-most commonly ringworm and psoriasis.
As I did a little additional research on Black Walnuts for this post-I discovered some interesting things I did not know about the trees:
Ground up walnut hulls are used to clean jet engines-and even aid in some oil well drilling applications.
The roots of Black Walnut trees are considered toxic-and can cause other plants growing near by to die.
Juglone-the poison that occurs naturally in the roots-can also be found in other parts of the tree. Certain types of exposure to the substance can be harmful to animals and humans.
Sadly I discovered Black Walnuts have an enemy they don't seem to be able to fight. Thousand Cankers Disease is attacking Black Walnut trees. Recently the NC Department of Agriculture issued a ban on walnut wood entering NC from certain states-one of which is Tennessee-in an attempt to stop the spread of the disease.
There are lots of Black Walnut trees around my house-and along the roads I drive each day. Over the years, I've somehow come to think of them as my friends. Crazy as it sounds-I feel like they watch with interest as I and others drive under them making our way about life.
They say your childhood travels with you for the rest of your life-I believe it does. Somehow it comforts me to know many of those stark, strong, regal Black Walnut Trees are the same ones I used to stare out the window at when I was riding in the backseat of Pap's big white Impala with Steve and Paul-you know back when all I had to do was watch for my favorite trees and dream.
Tipper