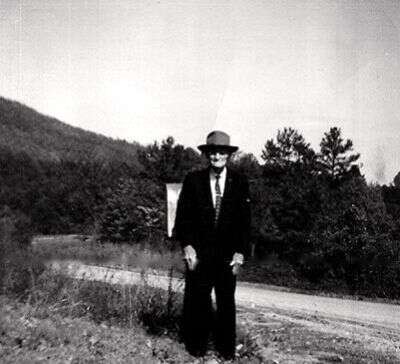 I love to hear Pap tell funny stories from his past. Most of the characters are long gone from this world, but they still live in Pap's mind and I'm sure on occasion he awakes with one of them in his thoughts and a smile on his face.
When Pap was a boy, there was a funny older man around the community-folks even called him Old Man. Pap said he was as good as gold and would help anyone who needed an extra hand. Like most characters he was lots of fun to be around. Pap said Old Man used big words to try to impress people however, the words weren't always real words. He wore a tie every day of the week no matter what kind of shirt, pants, or overalls he had on. Old Man was also partial to fancy socks and he wore his pants just short enough to show them off.
A young local boy was drafted but when he went over to Knoxville to officially sign up he was turned down. Everyone at the local country store was wondering why the boy was denied entrance into the military. Old Man knew the answer "It wasn't his physidition it was his edmentation that got him turned down." Uh?
One fall day Pap heard Old Man say "There ain't no defalcation about it, it's going to turn cold."
Another thing that made Old Man a real character was he made sure everyone he met knew that even though he was a Methodist, he wasn't sprinkled he was baptized. Dunked completely under.
Folks like Old Man are one of the things that make life interesting. I can think of a few characters from my past that still put a smile on my face. How about you?
Tipper
This post was originally published here on the Blind Pig in September of 2009.