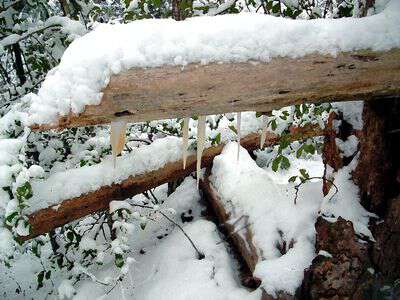 The winter of 1900 had been an unusually bad one. A true story book picture of what a Christmas scene must be like. It seemed as though the bad weather kept roaring into the Shooting Creek Mountains day after day without ceasing. First the freezing rain came, piling up on the earth and timber causing the mountains to sound like a battle was taking place as the trees gave way to the awful weight of tons of accumulating ice. Then snow had piled up at the Abraham Anderson cabin there in the Bethabera section of the county with little chance for folks to get any work done other than to break a trail to the barn to feed the animals and to find a decent pole of standing dry timber to fuel the fireplace.
Abraham hadn't been able to get to the mill that was situated further down the valley to try to buy or trade for a turn of cornmeal so his new wife Mae could make their everyday cake of cornbread for their table. Fact was that if he had been able to get to the old tub mill he wouldn't have been able to get any meal since the miller wasn't there to do the grinding. The miller like everyone else in the settlement was shut down solid. Mae, the young bride, had worries that went a little deeper that those of Abraham. Although she was just a recent bride she felt an obligation to provide a good meal for their table as this was the tradition that was understood by most women of the time, young and old alike.
The old peddler, Mr. Bramlett, who came over their way from across the mountain in Georgia and who made his usual rounds every few months with his wagon and team, had not showed up because of the bad weather as well. The folks who depended on him to deliver their short grocery list of coffee, salt and other such items that they couldn't produce on their small mountain farm were pretty much in the same shape as Abraham and Mae.
Finally the weather began to break sharing a bit of sunshine from time to time to perhaps shorten the life of the thick covering of snow. As night time slowly began to settle upon the valley Mae called to her husband and with a tone of sadness and some measure of defeat in her voice she told him to come and sit down at the table for a meager bite. With her call she explained that this was the last bite of anything in the house for them to eat. There was nothing else left in the house that she could cobble together to be made into another meal.
As they sat down at the table and started to eat their supper they both began to hear faint sounds coming up the cove. Could it be the gentle sounds of trace chains and the crunch of snow falling under the feet of a struggling team? As the sounds came closer, sure enough that was what they both were hearing. It had to be the peddler, Mr. Bramlett! As the sounds came closer, and finally stopped in the yard Abraham stepped out the door to greet this night traveler. A better Christmas gift could not be found on the earth than just to know that sitting outside their door was a wagon that held provisions enough to get them through the darkest and leanest winter that Abraham and his young wife Mae would ever have to endure.
————
This is a true story often relayed to me by my father many, many times. Abraham was my father's uncle. My grandfather was married in 1899 there in Shooting Creek and Abraham was next down from him in age, so his marriage to Aunt Mae was very near this time. Aunt Mae and Abraham later moved over to Union County GA where they raised a large family. Uncle Abraham lived until 1957-58 and was taken back to be buried in the Bethabera Chruch Cemetery. Aunt Mae died in the middle sixties and was buried beside her husband a stones throw from their cabin there in the valley of their birth. My great-grandfather was Col. Bramlett, so not knowing the real name of the peddler I have substituted the Bramlett name. Artistic license??? You understand. –David Anderson
————
I hope you enjoyed David's Christmas story as much as I did!
Tipper