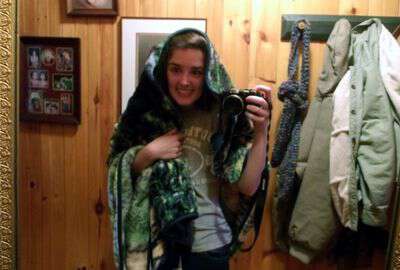 I'm used to finding weird pictures on my camera. Lots of times when I upload photos to my computer there are photos of Ruby Sue in some hilarious position. And someone (Chatter) is obsessed with her eyes because there are often extreme close up photos of her eyeballs-apparently she's yet to capture the right look.
Recently there was a whole set of photos like the one above. Chitter looking in a mirror taking a photo of herself. If it wasn't for the weird blanket on her head-I'd think she was taking it to send to some boy-but who knows what she was trying to achieve with her styling new look.
The photos got me to thinking about the technique of taking a photo of yourself while looking into a mirror. Its a very popular phenomenon-if you have teenagers you probably already know that. Usually the photo is taken with a cell phone and for whatever reason the prime location for such photos is the bathroom-well I guess most bathrooms do have mirrors so that's probably the logic behind the location part.
Years from now a researcher will probably do a thesis on the photo in mirror era of social encounters. At least I know the mountains of Western NC will be properly represented in the study.
Tipper
Appalachia Through My Eyes – A series of photographs from my life in Southern Appalachia.