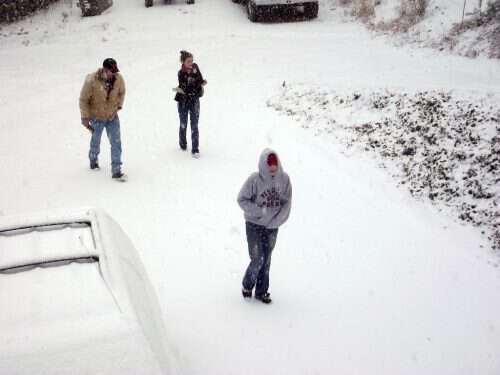 This is what the outside of the Blind Pig house has looked like this week-well if you made a watercolor of what it looked like-that's what you'd see. But you get the point-we've had an unusually big snow for this early in the winter. In fact-the girls haven't had school all week.
I've used the 'snowed in' time to make some of our favorite sweets to eat around the holidays. There have been Pralines, Sugar Cookies, and a few other recipes I haven't shared with you before-the one that seemed to disappear the fastest over the last few days-was Coconut Macaroons.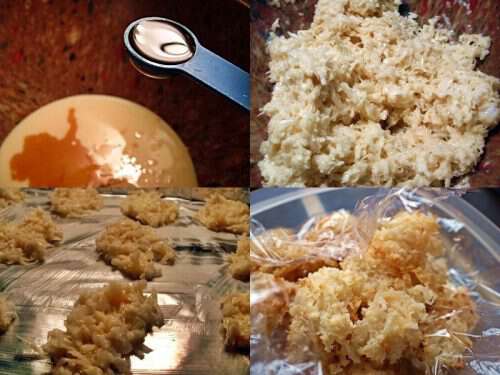 If you're a coconut lover-you'll love these-and if you're not you still might like them. The Deer Hunter claims he doesn't like coconut-but he doesn't seem to have a problem scarfing these down.
You need:
5 1/3 cups (14ozs) flake coconut
1 can sweetened condensed milk
2 teaspoons of vanilla
Mix all the ingredients together;
Drop by teaspoonfuls onto well-greased cookie sheets-press coconut down lightly with spoon or fork. Bake at 350 for 10 to 12 minutes or till lightly browned.
Once they're done-let them cool on a cookie rack. Mine always stick to the pans-but even if they get smushed up a little once they cool they stay intact.
We've all enjoyed the snow-so pretty-and the forced slow down from our busy days is kinda nice too.
But I think the best part of my snowed in cooking days-was the cooking helper I had! Chatter helped me make all the goodies 🙂
Tipper