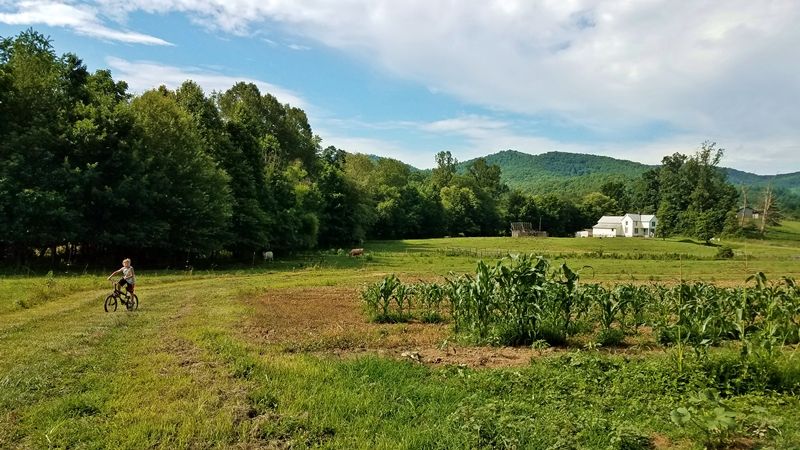 A couple of weeks ago when I was teaching at John C. Campbell Folk School I took my class on a field trip to visit Farmer Tim, one of my neighbors.
As we walked along his big garden he told us about the various seeds that had been handed down through the generations of his family and pointed out what plants were doing good, what plants were still coming on, and what plants were just about done with for the year.
One of my students asked Tim a question that he didn't hear and he said "I beg your pardon?"
I've probably heard Tim say the phrase before, but somehow it stood out to me that day in his lush garden. Tim has an accent that's thicker than mine and uses a lot of the old words and phrases that are found in the rich colorful Appalachian language.
After we left Tim's place we went to Brasstown to the Wednesday tailgate market and talked with another friend of mine Carolyn.
The exact same thing happened with Carolyn: someone asked her a question she didn't hear and she replied "I beg your pardon." (Here's a video interview I did with Carolyn and her husband David.)
Carolyn was born and raised in the Hayesville section of Clay County and has lived in Brasstown for many years. She also uses a lot of the old phrases and words from our Appalachian language.
My ears once again perked up when I heard Carolyn say the same phrase Tim had used.
Several days later I was looking for something in Jean Boone Benefield's book "Mountain Born – A Recollection of Life and Language in Western North Carolina."
In the back of the book there's a section called "Civilities" and there was the phrase that had pricked my mind:
I beg your pardon ~ It seems hardly worth an entry, but in the past this whole phrase was used, not just a curt "pardon," or "sorry," as one hears nowadays.
I'd love to tell Ms. Benefield that the phrase "I beg your pardon" is still alive and well in Brasstown.
Tipper
Subscribe for FREE and get a daily dose of Appalachia in your inbox