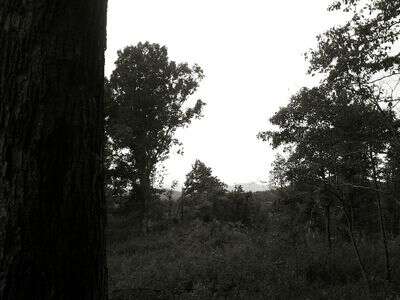 Today's guest post is written by Ed Myers (Bryson City, NC)
AN INNOCENT MOONSHINER
By way of background and to establish at least half of my bonifides, I hail from Oak Ridge, TN, a modest little scientific community created by the U.S. government in a previously unoccupied hollow of the southern Appalachian mountain range (is there any other?), and known far and wide (at least to its residents) as Atomic City, USA. To place the place, Oak Ridgers were once proud to be a part of the Manhattan project and number five on the Soviet Union's hit list.
Still, despite having been raised in this culturally bizarre setting, in my heart, I have always been a mountain boy, one with deep roots and bare feet in Union County, TN, an equally radioactive place in its own right known more for the explosiveness of its shine than its U-235.
My mother's people were and are from there, and at the age of 12, she introduced me to a few of these proud and crafty miscreants via the unlikely route of the Southern Appalachian Regional Science Fair held, at least then, in Knoxville.
Our junior high school (as such were known in the sixties; never got used to "middle school") was allowed one contestant for the annual title of "Best in Regional Science". I was the one selected that year, not because I had any particular scientific bent, but because I could (and as my close uncles did for a living) sell vacuum cleaners and shoes to folks who had yet to join the grid.
My "science" project was The History of Moonshine, which beat out a kid who made a primitive computer by making magnets dance on a red-hot frying pan (go figure). He won the thing the next year with the same project, but in his defense, he didn't have the opportunity, as I did, to live…albeit all too briefly…amongst a flamboyant tribe of outright and rightly pleasing liars who possessed only a passing familiarity with the law.
So, I won the pre-competition and had to deliver. My father's people were Church of Christ from middle Tennessee, so no help there. But, my mother's were straight up hillbillies and artists of liquor-ish ways, as I was to learn only too (alright, not too much "too") well.
They knew how to make it from potatoes, from store-bought sugar, from molasses, from peaches and plain old bleached flour if need be. But, their open air "secret", at least in those parts, was to make it from the hardest, ugliest, most indigestible mule corn they could find.  They taught me how.
The long and short of it was you got some burlap bags, soaked them in water and laid them on a single layer of corn, right by a warm place. Then you waited for sign.
Some said it was a hollow moon rising just above the peaks. To others, it was the chirping of spring robins as they gathered on the land to feed. To my people, however, it was the first sign of life, the swelling of the corn until it just barely cracked its shell and its natural sugars were most concentrated. No sooner; no later.
Perhaps this is why some people call moonshine "the breath of life." Of course, they may be thinking of something else.
When the sprouts had sprung, as it were, you gathered up all the corn, even those kernels that were a little late in the game, tossed them into a hollow log shaped for the purpose, and mashed them plenty with a two-handled hickory maul to make, well, mash.
You then stole your mother's clay butter churn (for very small batches), put the mess inside with varying amounts of warm water (about a four-to-one ratio), threw in a cake of yeast, covered it up tight (except for a small hole in the lid) and waited…and waited (about three weeks)…for the resulting "beer" to ferment. I well remember the smell of sour yeast and young liquor that coated your lungs and everything else in the neighborhood.
When the yeast stopped digesting all that sweet corn syrup (in the process "making" grain alcohol), you waited some more…and more (again, about three weeks, unless you "clayed" it the fermented beer)…until it settled to the bottom of the churn. Then, you poured off the refined beer on top, strained it through the burlap sacks you used before, and put it in the still.
The other open secret, aside from the use of bastard corn, was to cook the beer under a very low heat so that most of the alcohol vapors rose ahead of the steaming water into a cooling coil and condensed into the bottle beneath it.
At this point, and depending on the skill of the maker, the white liquor was about 160-180 proof. With practice, you could tell the proof by the size and number of the beads that danced on the surface when you dropped a drop, or by just burning it and judging its purity by the color of the flame. Or, you could drink it and hope you survived enough to croak an opinion.
If you were careful, and took pains to sop up the little bead of poison oil that develops on the beer (another secret step that eliminated most hangovers, or so I've been told), what remained was a good quart to quart-and-a-half of undiluted zing, or what has justly become known as "sweet white lightening."
I know, because I did it, fermenting the beer in my mother's bedroom (which was unfortunate as the churn cracked and we had to keep my grandmother from my father's side away for a while).
To shorten the tale, I didn't win the cup, or ribbon, or whatever, but I made the cover of the local newspaper, and my exhibit was by far the most popular in the place, particularly amongst the other contestants who otherwise wasted their time with such endeavors as mapping variable enzyme levels in cow udders.
And truth be told, I have to ask and thereby answer, who needs dancing computers, when you could be the one dancing?
###
——————–
Now that was a story! Hope you enjoyed it as much as I did-leave Ed a comment and I'll make sure he reads it!
Tipper