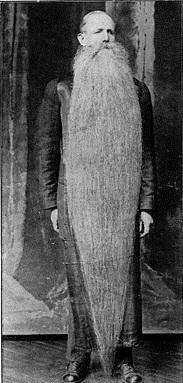 Sam Brinkley – State Archives of North Carolina
Sam Brinkley and His Beard
by Kelly Agan, Government & Heritage Library, 2014
21 Sept. 1850-13 Dec. 1929
Standing six feet two with a beard of five feet four inches, Sam Brinkley became known for one of the world's longest beards in the early 20th century. Brinkley was born on September 21, 1850 near Burnsville in Yancey County to Alex Brinkley and Annie McColl. The family later moved to Mitchell County, and Brinkley lived there in Magnetic City (now Buladean) earning a living as a teacher and then as a farmer, according to census records. Notoriety came with the remarkable growth of his beard, as he began to exhibit it to the curious and later by touring with the Barnum and Bailey Circus. He reportedly earned thousands of dollars charging to show his beard, which he kept out of the way in a pouch.
Brinkley's beard was a late bloomer. According to newspaper accounts, until he was twenty one he had no beard to shave, then shaving only once a week to remove light fuzz. By twenty three, the growth had reached the astounding rate of a full beard in a week's time. One article reported that the beard was entirely natural, not the result of restorers or invigorators. Another reported on its quality — "soft and beautiful, indicating a peculiarly fertile state of nourishment."
Brinkley may not have had the longest beard, with others in the contest. Robert Latter, of Wells, England claimed to have grown his an extraordinary sixteen feet, wearing it wrapped around his waist. Columnist Ann Landers even joined in the debate in 1972 as readers chimed in with accounts of the longest beard.
Sam Brinkley died on December 13, 1929 in Johnson City, Tennessee from complications of tonsillitis, according to the death certificate. Brinkley's gravestone indicates his date of birth as September 21, although the death certificate lists September 24.
Source: NCPedia
——————
Have you noticed beards are popular these days? At least they are in my neck of the woods. I've seen a few fellers who look like they're trying to become the next Sam Brinkley.
The Deer Hunter would love to grow a big beard that hung way down. Although he has sported a beard more than a few times he has never managed to grow one as long as he'd have liked.
Back in our courting days we knew a man that had a long beard down over his chest. The Deer Hunter said it looked like a covey of quail might fly out of it any minute. I said "And that's a good thing?" And he said "Of course it is!"
Pap never had a beard or even a mustache. He shaved every morning, he was always clean shaven. I think it was a hold over from his Marine days.
When I was growing up Uncle Henry had a bushy beard. I was still in school the first time I seen him with it trimmed close to his face. I remember feeling shocked that his appearance had changed so much. I guess I felt like the girls did the first time they saw The Deer Hunter with a totally clean shaven face. They were just toddlers, but they ran and cried, pitching fits that were worthy of two teenage girls. They wanted that mustache back and they wanted it back right now! All we could do was laugh at their hysterics.
Sometimes the girls at work and I wonder why in the world a man would want to grow a beard-it looks like it'd be awful itchy to us, but obviously we don't fully understand the allure of the beard.
If all this beard talk wasn't quite enough for you, jump over to this site All About Beards and poke around.
Tipper