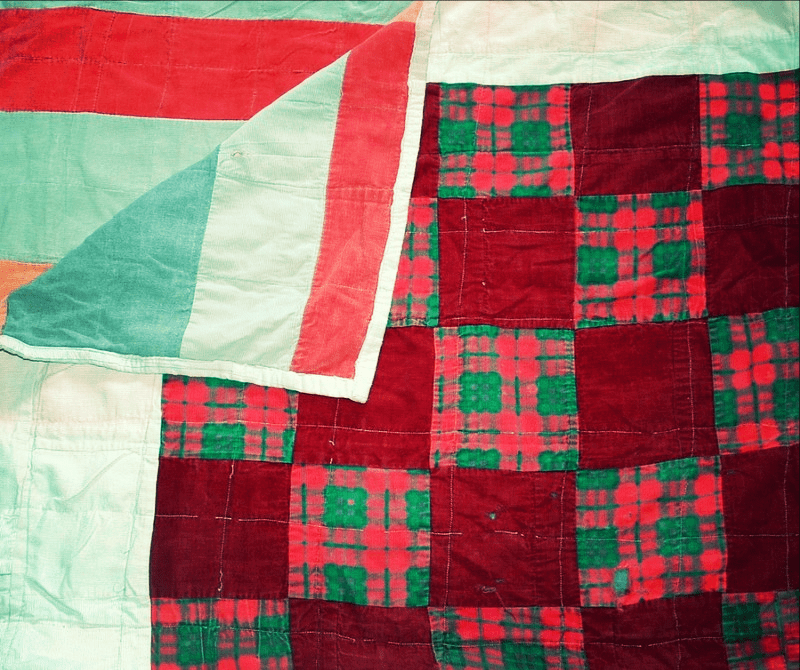 I don't think anyone can say the word Appalachia without thinking of quilts.
I've spent my life sleeping under handmade quilts. I used to view them from a utilitarian point of view, quilts were to keep me warm at night. It was only after I reached adulthood that I saw the beauty in handmade quilts.
The quilt above was made by Granny when I was a small girl. It's coming apart in places, but I still love it. If I'm feeling under the weather this is the quilt I want to cover up with on the couch. She made it from various scraps of old clothing, one of which was a red corduroy coat she used to wear.
Back in the day quilts were a necessity of life, well they still are to a degree. Quilts offer a way to protect ourselves from the cold. Yet, when you look back to the days of living in a house without insulation and only a fireplace or cookstove to supply heat you can quickly realize what an important role quilts played in the days of old.
In those days the skill of quilting stretched across all social classes. You needed warmth from the cold whether you were well to do or poor as a church mouse. Even though quilting was a necessary skill for women, it seemed they found true enjoyment in the process. Another pleasure that developed around quilting is the quilting bee where ladies gathered to quilt and visit one with another.
There are still quilting circles in communities across the country and some quilters have taken the quilting bee to a new level-a technologically savvy level. Quilters post about making quilt squares not to keep, but to pass along to a member of their virtual quilting circle.
Over the years I've discussed quilts here on the Blind Pig and The Acorn. Here a few of my favorite comments.
My grandmother used to make comforts, not quilts. We used them hard and I do not know of any in existence today. She was a hard German woman, but thrifty–all her quilts were made from sewing scraps. She wasn't Appalachian either-they lived in New Orleans and later in Washington DC. But I have quilts! None made by me, I'm not so talented. I find mine at auctions and yard sales, thrift shops, etc. My very favorite is a big, heavy comfort made from old upholstery fabrics–rich brocades and velvets–that I sleep under every night. Second favorite is a lovely feed-sack double wedding ring that I bought for $25 at an antique mall. I couldn't believe the price was right! I use it almost every time I tell stories because to me the rings symbolize stories circling back to us, the patterns represent the many different kinds of stories and the whole quilt represents the world we live in, as well as the creativity of the mountain people.

Granny Sue ~ 2008

We had wood heat early in my life & lived in Grandpa's sharecropper house (shack). It was rough built with no insulation & the beds were cold as ice. We used to stand & bake our behinds at the fire & then run & jump in the bed. We had a pile of those thick, heavy quilts & they were sure ugly but such a blessing. My husband's family is more refined & have pieced & quilted many beautiful "fancy" quilts. I love them but they aren't warm like the old timey kind.

Wanda ~ 2011

You story about quilts brings back memories of visiting my grandparents in Sylva, NC. Their old house was a big, old 3-story farm house that had no insulation in it at all. When we visited at Christmas, my brother and I were sent to a room on the third floor. The only heat in the house was a huge wood-burning kitchen stove and a pot-bellied stove in the living room. These were a long way from that third floor. I remember going to bed at night and crawling under a stack of grandmother's heavy quilts and freezing for about 30 seconds until the warmth kicked in. Then I was toasty, but could not move because of the weight of the quilts and the fear that I would have to warm up another part of the bed. Those cold nights under those quilts are some of my fondest memories of visits to Granddad and Grandmother's farm. The fancy quilts of today just don't have that weight to them, so I am not interested in them. I miss Grandmother's quilts.

Mike McClain ~ 2011

My hubby and I sleep under a beautiful cathedral window quilt my grandma stitched for me. Every stitch is by hand, and if you have ever seen a cathedral window quilt, you will know that's a lot of stitches! She has made one for every one of her children and grandchildren. She used to have one on her bed made by my great-grandmother. I loved looking at all of the fabrics and wondering what long-forgotten piece of clothing they came from. I, too, have spent all of my life sleeping under a homemade quilt. And I definitely have one at my mom's house that is THE sick day quilt. And the boys both sleep with baby quilts made by my grandma.

Twosquaremeals ~ 2008

My Mamaw (called "Maw" by us northern grandkids) worked at a shirt factory and brought home bags of scraps that my Great-Mamaw and Great-Aunts made into quilts. I have a quilt my great Aunt (who was also my Godmother) made me when I was a child. I still use it today, although one that I made now lives atop my bed. I have a much older one made by my Great-Aunts that I was given after their deaths and it sits on a bachelors chair in my livingroom, along with a rag doll that I got when I was 6. These are the things I would grab as I left the house if there ever was a fire.

Sarah ~ 2008
If you have a favorite handmade quilt please tell us about it!
Tipper