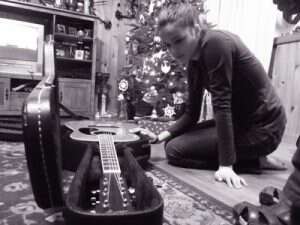 Is your Christmas tree still up? Mine is-actually all 3 of ours are still up. At least I think they are-me and the girls have hightailed it to the big mountains of NC for a few days-but when we left the holler all the trees were still up-and I doubt The Deer Hunter and Ruby Sue have touched them in our absence.
I take lots of photos during Christmas. The one above is my favorite from this year. About 2 weeks before Christmas-a Dear Lady passing away at the age of 100 led us to the Blueridge guitar in a round about way-the rambling story doesn't really matter. What does matter is Chatter now has a fine guitar to play. She's proved she's worth the investment of a real instrument by playing the hand me down-been broke in 2 pieces and glued back together-Fender she's used for the last 2 years.
Now back to your Christmas tree-Frank C. Brown says this:
take Christmas decorations down before the month is out or misfourtune will come to the house
never leave the Christmas tree up over New Years or it will bring bad luck
it is bad luck to take Christmas decorations down before Old Christmas (Jan 6) or to leave them up afterwards
Christmas decorations left hanging after 12th night (old Christmas) bring bad luck
Tipper
Appalachia Through My Eyes – A series of photographs from my life in Southern Appalachia.