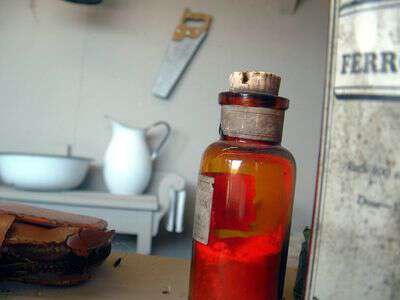 Excerpt from Dictionary of Smoky Mountain English:
Spring tonic noun A home medicine taken in early spring and purported to purge the system and thicken the blood. It most often consists of sulfur and molasses, sometimes with whiskey or an herb such as ginseng added. 1992 Cavender Folk Hematology 28 During the spring a "spring tonic" was necessary to "thin" the blood and, more importantly, to cleanse or "purify" the blood of the impurities or poison accumulated during the winter. In fact, cleansing the blood of waste materials serves to "thin" the blood as well since the waste material is the thickening agent. 1997 Andrews Mountain Vittles 4 Early spring here in the valley in ever' cabin we young uns could always count on our grandmas and mother to line us up and give us a spoonful of their own special remedy…spring tonic.
We never used a spring tonic when I was a kid-nor do I as an adult. But I have heard folks talk about eating greens-especially polk salad in early spring to build their blood. I guess that's a spring tonic of sorts.
If you've been a Blind Pig for a good long while, you probably remember Sylvia Lee telling us about her Grandmother's spring tonic.
How about you-got any information about spring tonics to share?
Tipper
*Source Dictionary of Smoky Mountain English.