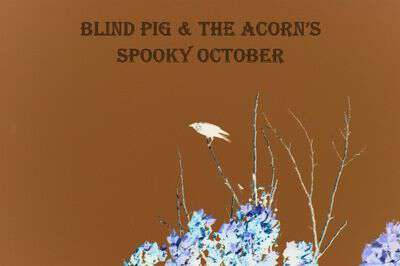 Today's Spooky October post comes to us by way of Ed Myers.
—————————–
MONSTERS OF THE MOUNTAINS written by Ed Myers Bryson City, NC
"From ghoulies and ghosties
And long-leggedy beasties
And things that go bump in the night,
Good Lord, deliver us!"
Scottish Saying
What must it have been like for the early settlers of these southern mountains, what monsters to drub the nether reaches of nightmare?
Go back far enough and see a mastodon or saber-toothed tiger. More recently, "painters", bison, black bears and long-as-body rattlesnakes.
Most of these have gone by the evolutionary wayside, but some "monsters" we still have among us, mostly unseen, or unrecognized, but there nonetheless.
I'm not talking simply about the animal kingdom, but the vegetative one as well. Did you know, for example, that the deadliest plant in North America and the one that supplied death's draft to Socrates is a common adornment of our mountain streams (and evidently those of Greece)? What is it?* (hint, it's not a tree)
I could go on and on (and do…ask my wife), but, for now, let's take a skip over to the more miniature kingdoms of insects and spiders (in physical size, if not their omnipresence) and look at three mountain "monsters" that I, for one, have encountered either here or across the range in east Tennessee.
First up, the six-spotted fishing spider. Anyone who "has but eyes to see" and has lived here for more than a few hours knows that arachnophobes have no place in the mountains, which host a virtual cornucopia of the spiderly kind. Of the somewhat dangerous, there are few, primarily the common black widow and brown recluse. Of the others, there are many that keep us as free as we can get from other flying and crawling vermin: 'nats, roaches, other spiders, etc. Of these, look up the common garden spider and the golden orb spider, if you want to see the artistic side of nature in all its glory.
Back to point. I was going down the drive the other day and chanced to look down into the creek that borders our property, hoping to get a better look at some of the water snakes that abound (commonly confused with water moccasins, which don't exist here), when I chanced upon this comparatively huge creature sitting side-by-side with the snake on the water's edge.  It is, as named, a six-spotted fishing spider. Here's a photo I took of it.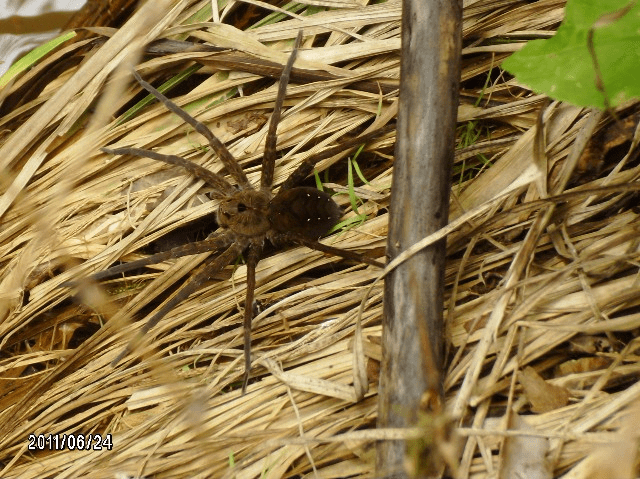 It's not the common water strider we see atop the rare pockets of calm in our streams (and not a spider at all), but a humongous denizen of the tribe of eight-legged terrors. You can't really tell from this photo, but it's about four inches across from toe-tip to toe-tip, and half an inch across the carapace. In other words, put a nickel under it and you won't see anyone's face.
I, for one, never dreamed that such a large (and harmless) spider existed in North America, let alone these mountains. But there it was, challenging large tarantulas for spread, if not breadth. If you want to know more, see: http://en.wikipedia.org/wiki/Six-spotted_fishing_spider. I should note that, although I'm not an expert, I'd say this variety has to be of the kind more commonly associated with north-central America, being much larger than its more common kin.
Then, there's the "velvet ant" (or "cow-killer" as it's sometimes known), so called owing to the numerous velvety upright hairs on its body. I have encountered them outside our house here, on the walking road nearby and elsewhere. See: http://en.wikipedia.org/wiki/Mutillidae.  It's red and black, marbled markings are extraordinary, as is its size (about half an inch) and its bite (see "cow-killer).
And, it's not an ant, but a variety of wasp, another too common insect species here. The skin of a velvet ant is so thick and its attitude so great that it feeds on other wasps…in their nests…so it's kind of a friend in a liberal interpretation of the word. Don't worry, it's not aggressive and seldom bites, unless you are the touchy-feely type…and stupid. Read about its mating habits, not in a prurient way of course, but to highlight the extreme differences in forms between males and females.
Then, there's the mountain scorpion (Vaejovis carolinianus), a relatively common, yet rarely seen varietal of southern Appalachia. I came upon this one in my earlier youth, when a rich kid from Oak Ridge, TN, showed me some amongst the crumbling quartz that abounds there. At the time, I was among the many who thought scorpions a purely desert creature and occasional science fiction mutant. Wrong. They are among us, if, again, relatively harmless. See here for more: http://bugguide.net/node/view/2447.
I could go on about cicada killers, ant lions, doodlebugs, hellbenders, various mushrooms and other toxics, whatever I saw in the compost pile, etc. But, forget about the lions and tigers (no longer here by most accounts) and bears (very much with us), there are other monsters aplenty amongst us, if we, as said before, have but eyes to see.
Take a look. They won't hurt you, but in your dreams. You may even want to take one home to show Mom.
But that, as is said, is another story.
*water hemlock
—————————–
I hope you enjoyed Ed's post as much as I did-although I do find myself itchy and wanting to pull my feet up under me after reading it. I've never seen the spider-nor the ant (and am in no hurry to either) but I have seen scorpions aplenty.
In all the years I lived in Granny and Pap's house I don't recall ever seeing a scorpion. But after The Deer Hunter and I built our house up the hill from them-we found scorpions in the kitchen-usually dead inside a pitcher or seldom used bowl. More worrisome we found them in the girls nursery-scurrying along side the baseboards looking for a place to hide. In defense of the scary looking scorpions-none of us were ever stung-and I haven't seen one in many years. I guess they soon decided a house with 2 banshee babies was no where to live.
Tipper