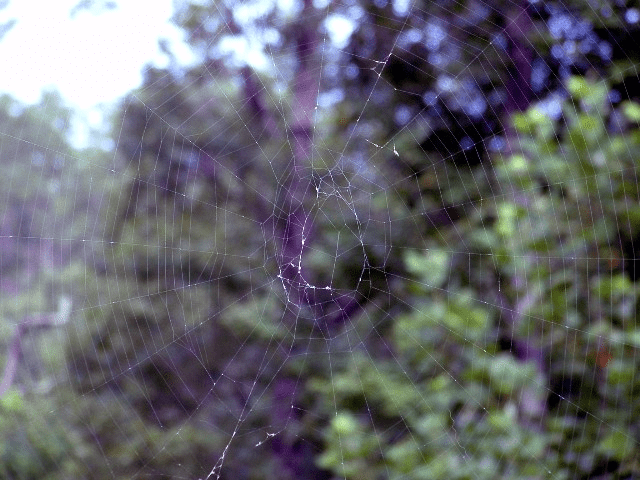 Seems this time of the year I see spider webs everywhere I look-especially around the eaves of the house and along the porches (I won't mention the ones in the corners of my living room).
I'm pretty sure I've shared my fear of spiders with you in the past-thankfully I out grew it just in time to try and convince Chatter she doesn't need to be afraid of them either.
I grew up hearing spider webs were used to stop the flow of blood from a cut in the old days. While surfing around this morning, I discovered spiders themselves were being used to ward off fevers as early as 1681-you can read about it here.
The book Folk Medicine in Southern Appalachia written by Anthony Cavender offers these spider web related remedies:
to cure asthma swallow spider webs that have been rolled into a ball
put spider webs over an injury to stop bleeding
stuff spider webs into a cavity to stop the pain
Needless to say-I've not tried any of the remedies myself. However I can see worthiness in each of them-not in a scientific proof manner-but in a mind over matter way.
Anyone who's ever sat up with a child who was sick-tossing and turning from pain, fever, or both-knows the desperation you feel as you try to ease their sickness. For most of us-morning brings a great hope-a great hope that we can take our sick one to a local doctor's office and let them diagnose and prescribe something to relieve the pain, fever, and worry. But the folks who used spider webs as medicinal remedies-they didn't have that hope of modern medicine. So they made their own hope and passed it along to the next generation in the form of home remedies. To be sure some of the remedies worked-while others were down right cooky-but all of them gave a hope-a feeling of "we've done all we can do and things will surely turn out o.k."
Tipper
Appalachia Through My Eyes – A series of photographs from my life in Southern Appalachia.