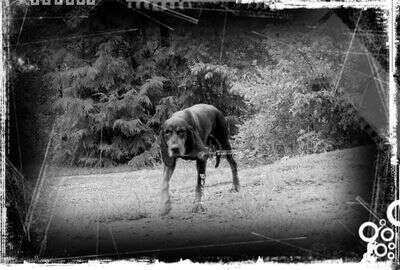 Part of the fun of hunting is the camaraderie you feel with your fellow hunters. The Deer Hunter has a special kinship with the men he's hunted with for most of his life…along with more than a few humorous stories about them.
Pap told me this story about a group of men that used to coon hunt with his father.
The men were standing around the fire listening to the dogs run, waiting for them to tree. Frank had a dog, Ole Blue, that really wasn't much of a hunting dog. Everyone teased Frank that Ole Blue would get out of the circle of light made by the fire and lay down to nap-leaving the rest of the pack to do the running.
Frank went to check on the running dogs, while the others stood around the blaze warming and talking. One man was whittling a stick. He wasn't really trying to make anything but as he cut two holes in the stick one of the men noticed and remarked that it looked like a pair of glasses.
As the group started laughing about the glasses-one of them came up with the idea of tying them on Ole Blue.
A little while later Frank showed back up and said "I've been thinking about it and Ole Blue ain't lazy-he's probably so old he's going blind."
The fellows couldn't believe their luck-they quickly told Frank they agreed and he should call Ole Blue in so they could look at his eyes. Frank called and there he came-trotting up to the fire wearing those homemade glasses. The men he-hawed as they assured Frank that he was right Ole Blue must be going blind because he had went and got himself some glasses.
I hope you enjoyed the story about Frank. He is long gone on-Pap wishes he could still walk over the mountain and sit a spell with him. The same way The Deer Hunter wishes he could go back and spend one more night in the camper with Hoot.
——————-
I met Jim Mize at the SEOPA Conference. Jim is an outdoor humorist. He graciously donated 2 books for me to giveaway here on the Blind Pig.
First up is A Creek Trickles Through It – A Collection of Fly-Fishing Humor; the other one is The Winter of Our Discount Tent – A Humorous Look at Flora, Fauna, and Foolishness Outdoors.
The books are full of the same type of story I just shared from Pap. To be entered in the giveaway leave a comment and let me know which book you think sounds the best -there will be 2 winners. *Giveaway ends Thursday December 4, 2014.
Jim's books would make great Christmas gifts. He is currently offering the following sale on the 2 humor books:
Both books signed for $25, for a savings of $8. You can jump over to Jim's website by clicking here. And if you have any questions or would like to purchase the books at the special discount price you can email him at: [email protected]
Tipper