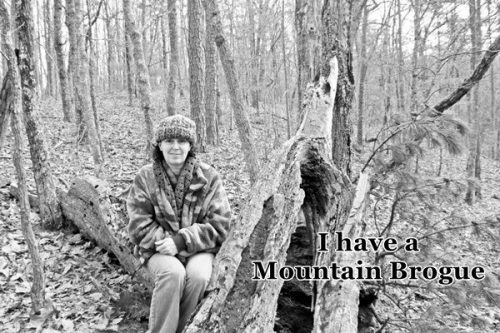 brogue noun A distinctive local accent or habit of pronunciation (with no reference to perceived Irish or Scottish characteristics).
1978 Montgomery White Pine Coll. III-2 He's a Tennessean. I can tell by his brogue. 1996 Montgomery File He's just got an old mountain brogue.
[CUD"an Irish accent (from the idea of having a shoe in our mouth)"; cf DHE "there is a view that Irish people used to speak English unintelligibly (as a result of linguistic contamination from Irish syntax and vocabulary), and the effect was as if they had a shoe on their tongue."
Dictionary of Smoky Mountain English
—-
The other day a lady called the Folk School to discuss an upcoming show where Folk School catalogs would be handed out. We had been emailing each other for a month or so, but finally decided we needed to speak by phone to iron out the last few details of the show.
I had only said a sentence or two when the she interrupted me and said "I just can't get over your voice. I could listen to you talk all day long." I thanked her and continued on with what I needed to tell her. I paused to let her comment on what I had said and she again said "You just don't know how good you sound. Hearing your soft musical voice takes me right back to my grandmother's house. I used to visit her in the summers in the mountains, but I haven't been back in years now." By this point I was sort of getting embarrassed 🙂
After we hung up I thought I should have told her to call me anytime she was missing her grandparents and cousins and I'd tell her a story or two.
Since I've went on about my mountain brogue it seems only fair that I let you hear it too.
Tipper
Subscribe for FREE and get a daily dose of Appalachia in your inbox