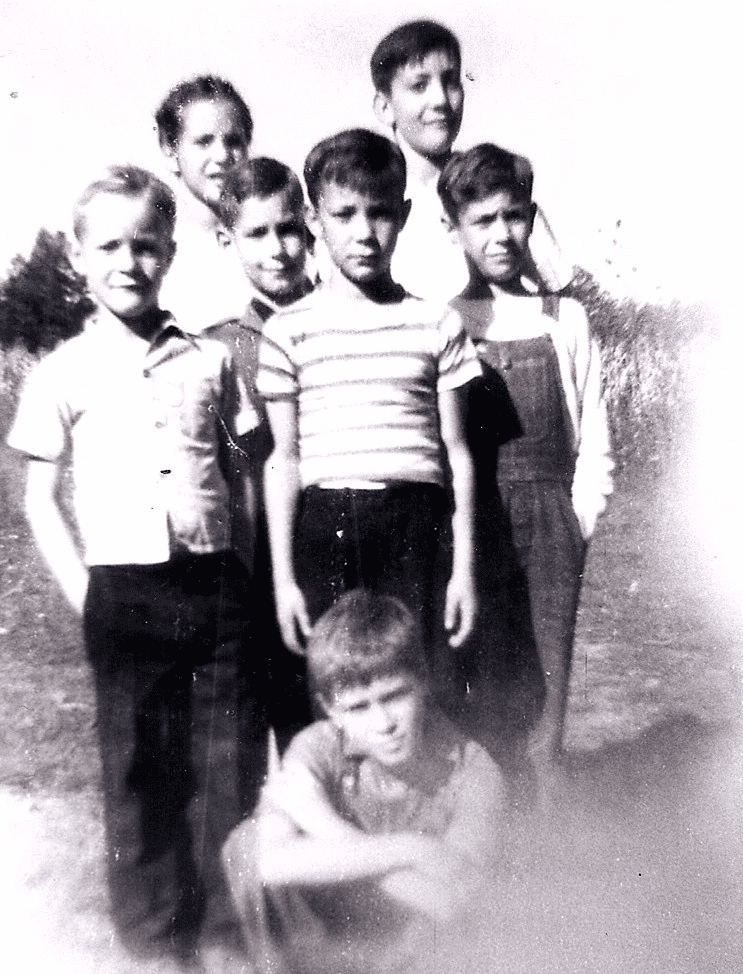 Pap is the boy kneeling in front. The rest of the gang are his cousins:
Katie Mae, Billy, George, Duck, Johnny, and  Bobby McElrath 
These days most of us don't even have to leave our houses to shop. All the needs and wants we have lie under our finger tips as long as we have an internet connection and an electronic way of paying.
If you decide to leave the comfort of your couch or computer desk there's likely a wally world or something similar a short driving distance away.
Pap has always said money is one of the biggest differences between his childhood days and today's modern world. When Pap was a boy cash wasn't King-trade was. Its not that folks turned up their nose at hard cash, it's just that they didn't use it or see it as much as we do today.
Pap said in his early years only about 40 dollars a year went through his Daddy's hands. Take a minute and think about that: how fast does 40 bucks go through our hands today? One trip out to eat with the family, half a monthly cell phone bill, or a tank of gas and its gone.
There were certainly trips to town for folks living in the out lying areas when Pap was a boy, but they were far and few between.
In a recent guest post, Eva Nell pointed out the solution to those in-between trips to town: the rolling store.
Pap said Bennett's Rolling Store came through Brasstown about twice a week when he was a boy. The side roads, like the one we live on, were way too rough and rocky for the store truck to make it up, but most folks knew about what time they could expect the truck to be down on the main road.
The store took money and as Eva Nell mentioned you could use chickens for trade. According to Pap other items such as squirrels, hides, possums, ducks, rabbits, milk, butter, and I'm sure the list goes on, were traded on a regular basis as well. The store man might take your butter for trade and then sell it or trade it to someone on down the road.
Most families like Pap's only needed to barter for things they couldn't provide for themselves-like sugar, flour, salt, or coffee. But the store did have 'tins' of meat and other food items for folks who needed them.
The rolling stores also offered special orders. In other words if you needed something he didn't have on the truck, you could generally place an order and in a few weeks he'd bring the item around to you.
Pap and a group of his buddies once had an especially productive squirrel hunting trip. One of them came up with the idea of trading the squirrels to the rolling store for candy.
None of the boys were used to having candy on a regular basis. Pap said he believed every boy but one, was foolish enough to eat their bounty of candy in one sitting-including him. Talk about a belly ache! Pap said after they foundered themselves, it was a good long time before they discussed trading squirrels for more candy.
Tipper
This post was originally published here on the Blind Pig in 2012.