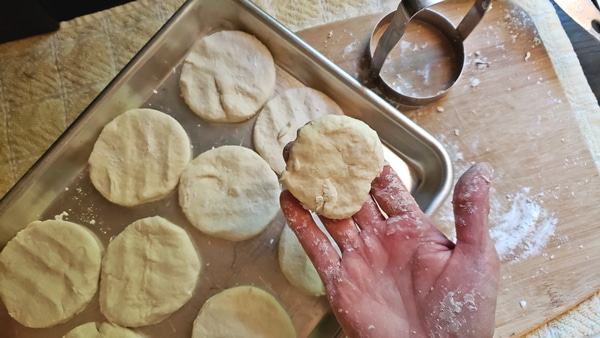 A few month's back Sheila, a Blind Pig reader, left a comment about the word flumlolly. I emailed her to inquire about the word usage and she sent me the following email.
"Good afternoon! When she made a pan of biscuits or something like that it was the odd shaped biscuit she usually stuck in the middle of the pan. The flumlolly was the biscuit made from the leftover dough when there wasn't enough to make a round one like the other ones. The gathered up edges, etc. 🙂 and it was more crusty because it was a smaller piece than the others. It was always my favorite. Mammaw, can I have the flumlolly?
It wasn't something she made up either because her mom, great grandma, great aunts, used the word."
---
I'd never heard the word flumlolly before Sheila mentioned it. I looked in my Appalachian language books but couldn't find it.
Even though I'm not familiar with the word, I am familiar with that last bit of dough that's left when you're making biscuits. I guess I call it the baby biscuit and I pretty much always eat it as soon as the pan comes out of the oven.
---
This week we:
froze okra
froze peppers
made another run of salsa
Tipper
Subscribe for FREE and get a daily dose of Appalachia in your inbox