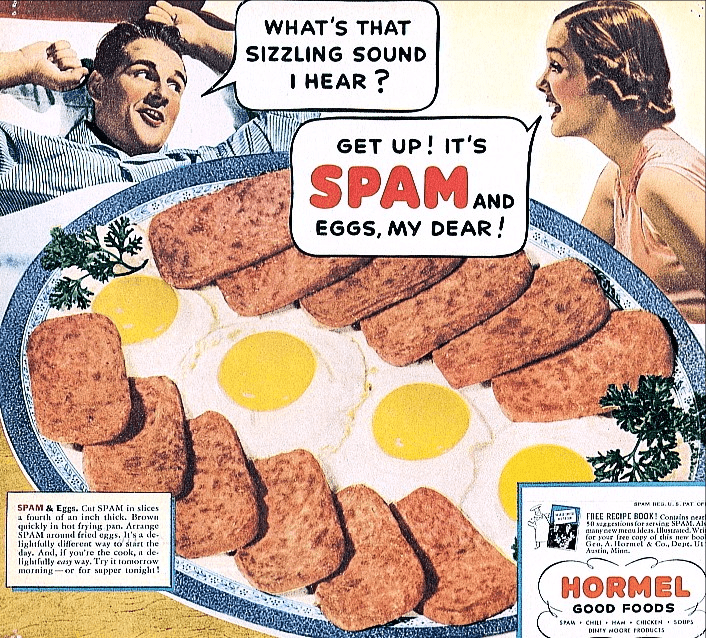 If you're of my generation or older you may associate the word Spam with the canned meat product you find on grocery store and gas station shelves alike. Maybe you've even eaten a piece of fried spam on white bread slathered with mayonnaise like I have.
In today's world spam = any unsolicited contact you receive via the world wide web. The most common form of spam arrives almost daily in your email account. You know like when you receive notification that you've been awarded a vast inheritance from a long lost relative-if only you'll pay some money up front they'll send the rest of the funds right over. Spam can also show up on your facebook page, your twitter feed, or even on your blog if you have one.
In one of my college classes I learned using the word spam in connection with junk email or unwanted online drivel actually came from a Monty Python skit. In 1970 Python had a skit where cans of spam kept interrupting the singing performance and kept popping up all over the place. In other words spam was showing up were it wasn't wanted exactly like the spam we are often plagued with on the web. In the early 90s when folks first started getting bombarded by unwanted emails someone gave the junk email the moniker of spam and it stuck.
Spam is the main reason I have comments here on the Blind Pig set to publish only upon approval. My blogging platform has a spam filter, but it doesn't catch everything. Most of the spam I get here on the Blind Pig is of the advertisement sort: coach bags, woolrich, ugg boots, louis vitton, michael kors, etc. I also get a ton of pharmacy related spam. Both the pharmacy related and the advertisement type are easy to spot. In most instances, spammers who leave blog comments are simply trying to gain links to a specific website or product.
Spammers try to out smart filters by making their content appear normal, those are the ones that sneak through the filters. Most of the time I don't do much more than glance at them, but every once in a while one catches my eye that makes me laugh.
I recently got these 2 funny spam comments:
On the post Away In A Manger-Clash of the Clans Hack left this:
Yesterday, while I was at work, my cousin stole my iPad and tested it to see if it can survive a twenty five foot drop, just so she can be a youtube sensation. My apple ipad is now broken and she has 83 views. I know this is entirely off topic but I had to share it with someone!
And on the post A Pocket Knife Giveaway & A Pocket Knife Christmas Story-Valentine left this:
I was getting tired of the usual Chinese take-out so I decided to cook for them using my family's easy pork marinade recipe for some Asian-inspired pork chops. Any Irishman worth his brogue will tell you that Killard is probably the most beautiful spot in heaven. Children too will love the food and you for providing them with their favourite Pie Crust.
Crazy uh? And then there are the spammers who try to tell you what you're doing wrong:
On a Planting by the Signs post Borsa Speedy said this:
Hi, I just wanted to tell you, you're wrong. Your post doesn't make any sense.
And on the 4th Annual Planting by the Signs Test-A Buon said:
Hello, you used to write great, but the last few posts have been kinda boring. I miss your super writings. Past few posts are just a little bit out of track! Come on and get back on track before I quit reading!
Tipper