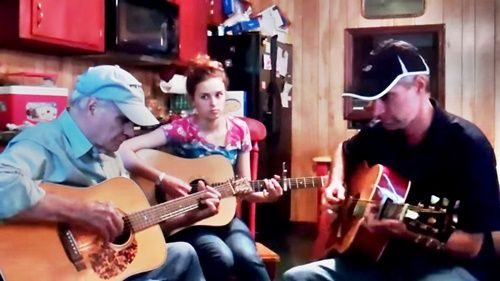 As you might imagine, there's all sorts of times I get lonesome for Pap. Sometimes I get something on my mind and wish I could talk to him about it. He always had a remedy for what ever was troubling me and knowing I can't talk to him makes me feel lonesome.
When I visit with Granny I get lonesome for Pap when she talks about him. She's never gotten rid of his clothes so when I go to the bathroom (that's where his clothes are hanging) I sometimes get lonesome for him in there too. After he first died I'd bury my face in his shirts every time I visited the bathroom to smell his unique scent of coffee, Vitalis, and Listerine.
Getting the garden ready for this year's crop of veggies makes me lonesome for Pap. I helped him in the garden pretty much ever since I can remember. He taught me everything I know about growing a garden. As I typed that last sentence I could hear Pap in my head saying "Well Tip that wadn't all that much I never was no expert gardener." But he was an expert gardener and thinking of the way he never ever thought of himself as being better than others makes me lonesome too.
Sometimes I get lonesome for the songs Pap and Paul used to do together. The girls and Paul do a couple of songs they did, but there are tons that we no longer play because they were Pap's songs. Of course he wouldn't care if we sung them, in fact he'd be glad we did, yet we don't.
A lot of the reason we don't is we're too lazy to come up with a different arrangement. The girls voices are different than Pap's so the key of the song has to be changed. Even if Paul sings a part of the song the key still has to be changed and the harmonies have to be worked out as do new breaks. And I guess in the back of our minds we've relegated the songs Pap did to a sacred place in our memory so that's part of why we don't do the songs.
I've had one of Paul's original songs we used to do on my mind for the last two weeks. "Can't Say I've Ever Been More Lonesome" is a real toe-tapper and it was so fun to play.
I hope you enjoyed the song. When we practice later today I'm going to convince the gang to do this song or at least one of the songs Pap and and Paul used to do. Wish me luck 🙂
Tipper
Subscribe for FREE and get a daily dose of Appalachia in your inbox