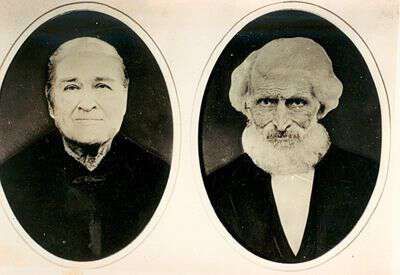 When we last checked in with W.C. Penland he was writing home about buying a fur hat, some land, and the coat he still needed.
Since the last letter, Mike McLain sent me a photo (above) of Patience Mahalia Moore Penland and her husband, Harvey Monroe Penland. They were the parents of W.C. Penland and Mike's great-grandmother, Luola Penland Patton. After reading all the letters W.C. sent home, isn't it fascinating to see who he was writing to?
W.C. wrote today's letter on May 5, 1863.
Camp near
Blontville    Sulivan   Co
East Tennessee    May 5th 1863
                                      Dear father & Mother
I now seat myself to write you a few lines to let you know that I am well hoping that this may come safe to hand and find you and all the family well   the last account that I had from Uncle Chamberlain he was very sick   I allowed to get a permit to day and go to see him but there was no chance to get a permit to day for there come orders to this place this morning for us to be in readiness to move to Knoxville in the morning at eight o'clock   I have not heard from Uncle Chamberlain now for two or three days   I would have went up there before now but our company has been out on picket below here   all of Loves Regt but one company has left Zollicoffer last night  Henrys company went with the Regt   all of Walkers Regt left but one company also stayed to guard the Bridge    I expect there is a fight expected down below some where   I sent you a pack of envelopes by Thomas Setser  He said if he did not see you that he would leave them at Fort Hembree   C M Anderson and Thomas Setser went to take the remains of Lieut Anderson   he died on the 28th of April   He was a good officer and a noble Soldier   he was well thought of by all of the men in this company   he died and said that he was willing to die   he had a tolerable long spell of sickness   his death was much lamented by all who knew him   W H Coleman is very unwell yet   he is still at the home of one of his uncles   M A Martin is in good health now   R V Alexander is also well and John Sherman and all of the boys that you are acquainted with but A M Cook   I got my coat that you sent to me I like it tolerable well   it not quite long enough in the skirt   Mr Bristol got with J N  Ownsby at Knoxville and he brought it to me   you wrote to me to know whether I wanted any other clothes as I want one pair of pants and I also want you to get some fur if you can and have Daniel Woods to make me as good a hat as he can make   I do not like to wear a cap and a common cotton hat is worth $20 in this country and I do not like to give this sort of price   my horse is a goodeal reduced on account of getting such short rations for him but he is shed of and in good spirits   I have been offered $350.00 for him but I would not take   I thought that I could not get a horse that would suit me any better   We get a plenty to eat our selves such as it is and that is corn meal with Brand in it and bacon and some of the time we sugar and rice and peas
so no more at present but remains your son as ever
                        William C Penland
————————–
I found this letter very interesting. My thoughts:
He mentions several companies have left the area-and his is scheduled to as well-then he goes on to say he expects there is a fight coming. I imagine W.C. along with the other soldiers would have been nervous about what was to come in the next few days.
He tells his parents Thomas Setser may leave the envelopes he's sending at Fort Hembree. Fort Hembree was in Hayesville, NC. The fort was founded in 1837 and was one of the forts used in removing the Cherokees from western NC.
He mentions W H Coleman. Pap's Grandmother was a Coleman-makes me wonder if W H was one of her ancestors-and mine too.
He finally got the coat!!
$350.00 dollars for the horse seems extremely high for those days. But I suppose horses were in short supply and high demand.
I wonder what Brand is that they put in their cornmeal?
This part: and some of the time we sugar and rice and peas makes me wonder if he mixed sugar with his rice. Have you ever seen anyone do that? Both mine and The Deer Hunter's family have been known to mix sugar and butter with their rice. When I was little I loved sugar, butter, and rice mixed together-really who wouldn't?
Hope you'll leave me a comment with your thoughts about the letter.
Tipper