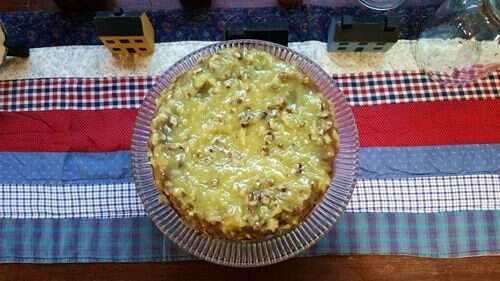 One of my favorite things to make when the holidays roll around is an Arsh Potato (Tater) Cake. The word arsh is a mountain corruption of the word Irish. Granny and Pap always differentiated between white potatoes and sweet potatoes by calling the white ones arsh taters or potatoes.
Years ago Granny worked with a nice lady in Hayesville. Knowing Granny loved black walnuts the lady shared her family's recipe for Arsh Potato Cake. It's my favorite cake of all the many that Granny has made over the years. These days Granny lets me make the cake and share its goodness with her. I make one for Thanksgiving and one for Christmas. Looks like I'd make the recipe more often since I like it so much, but the taste fits perfectly with other special holiday dishes.
The age of the original recipe is indicated by the ingredient list which includes sweet milk and a lump of butter. Over the years Granny came up with an appropriate measurement for the butter.
Arsh Potato Cake
1/2 cup softened butter
2 cups sugar
1 cup warm mashed potatoes (If I have mashed potatoes left over from supper I pop them in the freezer so I'll have them handy to warm up when I make the cake)
1 teaspoon vanilla
1 teaspoon cocoa
2 cups plain flour
2 teaspoons baking powder
1 teaspoon sodie (baking soda)
1/4 teaspoon salt
1/2 cup sweet milk (just regular whole milk)
1 cup black walnuts
3 egg whites beaten light (save the yolks for the icing)
Arsh Potato Cake Icing
1 cup sweet cream (or evaporated milk)
1 cup sugar
3 beaten egg yolks
1 lump butter (1 tablespoon)
1 cup black walnuts or a little less
1 1/2 cups shredded sweetened coconut
Beat egg whites till light and fluffy; set aside.
Cream butter and sugar thoroughly.
Sift together dry ingredients; set aside.
Add vanilla to butter and sugar; mix well.
Add mashed potatoes mix well.
Alternately add dry ingredients and milk; mix well after each addition.
Fold in black walnuts.
Fold in egg whites.
Pour into greased and floured 9 inch cake pans. The cake can stick so I often use parchment paper instead of greasing the pans.
Bake at 350 for 30 minutes or till done.
Remove cake from oven and let cool before removing from pan.
For the icing: cook cream, sugar, and reserved egg yolks over low heat until slightly thickened.
Remove from heat; stir in butter.
Stir in coconut and black walnuts
When icing the cake I don't worry about the sides. Place one layer on a cake plate and spread icing evenly. Add other layer and pour the rest of the icing on top spreading evenly allowing icing to drip down the sides where it will.
If possible make the cake a day or so ahead of when you need it to let the flavors marry.
I found it interesting Jim's Applesauce Cake called for a small amount of cocoa and this one does too.
Tipper
Subscribe for FREE and get a daily dose of Appalachia in your inbox